Son of pensioner set alight pleaded for help saying 'my dad is on fire'
The victim is in stable condition in hospital but with severe burns to his face and hands and is unable to open his eyes.
The son of a 70-year-old man set alight just yards from his house as he walked home from a mosque pleaded for help saying "my dad is on fire", the family's lawyer has said.
The incident left Mohammed Rayaz, a retired factory worker, with severe burns to his face, hands and chest.
He remains in stable condition in Birmingham's Queen Elizabeth Hospital after events unfolded just around the corner from his home in Shenstone Road, Edgbaston, Birmingham, at about 7pm on Monday.
West Midlands Police said on Tuesday it was aware of a similar incident in the Ealing area of London and is working with the Metropolitan Police to see whether the incidents are linked.
Meanwhile, in Birmingham, the blackened remnants of Mr Rayaz's coat can still be seen on the pavement, after he tried desperately to remove the jacket as he was engulfed in flames.
On Wednesday, police, assisted by counter-terrorism officers, have been continuing to question a man arrested in connection with the incident.
He was detained at Dudley Road mosque, where Mr Rayaz had earlier been praying on Monday and is being held on suspicion of attempted murder.
Family friend and lawyer Shahbon Hussain, whose office is opposite the mosque, said he got a text message from Mr Rayaz's son, Mohammed Ayaz, within minutes of the attack.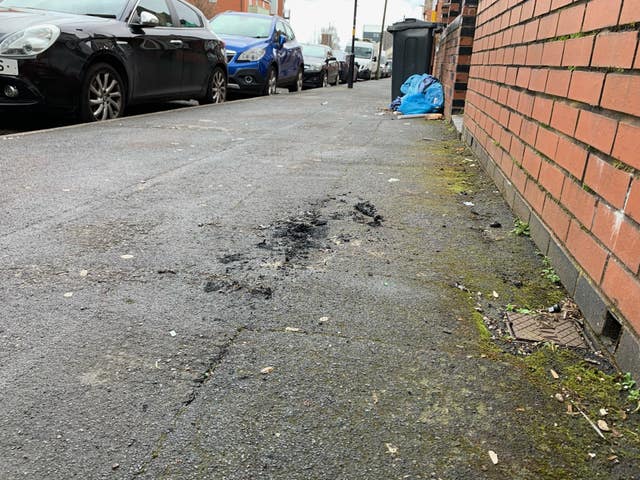 He said: "I got a text message saying, 'my dad is on fire – somebody has lit my dad on fire'.
"I thought I had misread and that maybe someone had set his car on fire but it became obvious I hadn't misread at all.
"He heard his dad screaming, the family had gone out the house and seen him on fire.
"I immediately went over and the police, ambulance and fire brigade were already there."
Mr Hussain, who also chairs the local Streetwatch group, said: "He was taken to hospital and, in the meantime, I started detective work, putting every clue we had onto the community's WhatsApp group, which is 160 people and managed to collate all CCTV and Ring doorbell footage.
"All that was passed to the counter-terrorism unit officers."
He added there was a community meeting between police and locals on the Tuesday morning and, after it had ended, Mr Hussain got another call to say a man matching the description of a suspect was at Dudley Road mosque.
Police had also been alerted and a male was detained at the scene.
Speaking about Mr Rayaz's condition, Mr Hussain said: "He's stable, he's not critical.
"He is in intensive care and has suffered severe burns to his hands, trying to take his coat off, but also his chest and face, and he can't open his eyes."
Mr Hussain added: "It doesn't make any sense, the whole thing is bizarre."
Chief Superintendent Richard North, of West Midlands Police, said: "Our investigation continues with support from Counter Terrorism Policing West Midlands CTU who have access to specialist capabilities to help establish the full circumstances surrounding the incident.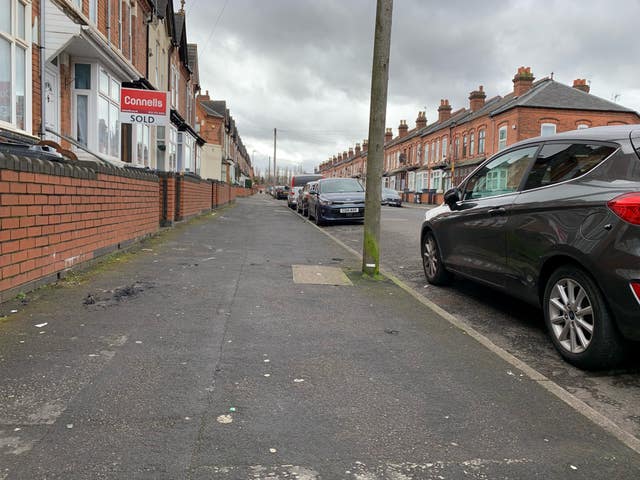 "We have officers patrolling the local area to reassure people and we are visiting local faith establishments to keep them informed."
He added: "Our officers have been working through the night to establish what happened and who is responsible.
"We are taking this matter extremely seriously and are using all resources available to us. We are keeping an open mind to the motive of the attacker and we won't speculate further at this stage.
"We're examining CCTV and speaking to witnesses. I've been speaking to people this morning, and so I know just how concerned they are and that people are after answers.
"We are determined to get those answers as soon as possible, and I'd urge the community to work with us and to avoid any speculation at this stage."
Earlier, police said it was believed Mr Rayaz, was approached by a man who "spoke to him briefly before spraying him with an unknown substance and then his jacket was set alight, causing burns to his face".
"He was taken to hospital with serious injuries which are thankfully not believed to be life-threatening," added Mr North.
Officers are aware of a video posted on social media "showing a man being set alight, and we're examining it as part of our investigations", the statement added.
Last month, an 82-year-old man had been set alight on Singapore Road, Ealing, on February 27 as the suspect and victim both left the West London Islamic Centre.
A spokesperson for the Metropolitan Police said the Ealing incident was not being treated as terror-related and it was not yet confirmed that the two incidents are linked.