Billy Bragg performs There Is Power In A Union at Dorset school picket line
The headteacher at St Osmund's Middle School in Dorchester told the PA news agency that staff were 'delighted' by the folk singer's show of support.
Billy Bragg was met with applause as he performed on a picket line at a middle school in Dorset, telling striking teachers: "You're stood here with us and now you've stood in solidarity."
The 65-year-old folk singer sang his 1986 tune There Is Power In A Union for those supporting the teachers' strikes at St Osmund's Middle School in Dorchester as the country saw its largest strike action in decades, with up to half a million workers walking out in ongoing disputes over pay and conditions.
Guitar in hand, he addressed a crowd standing on the pavement outside the school and spoke about the tradition of striking as a union: "Now you've stood on the picket line, now you're part of that tradition."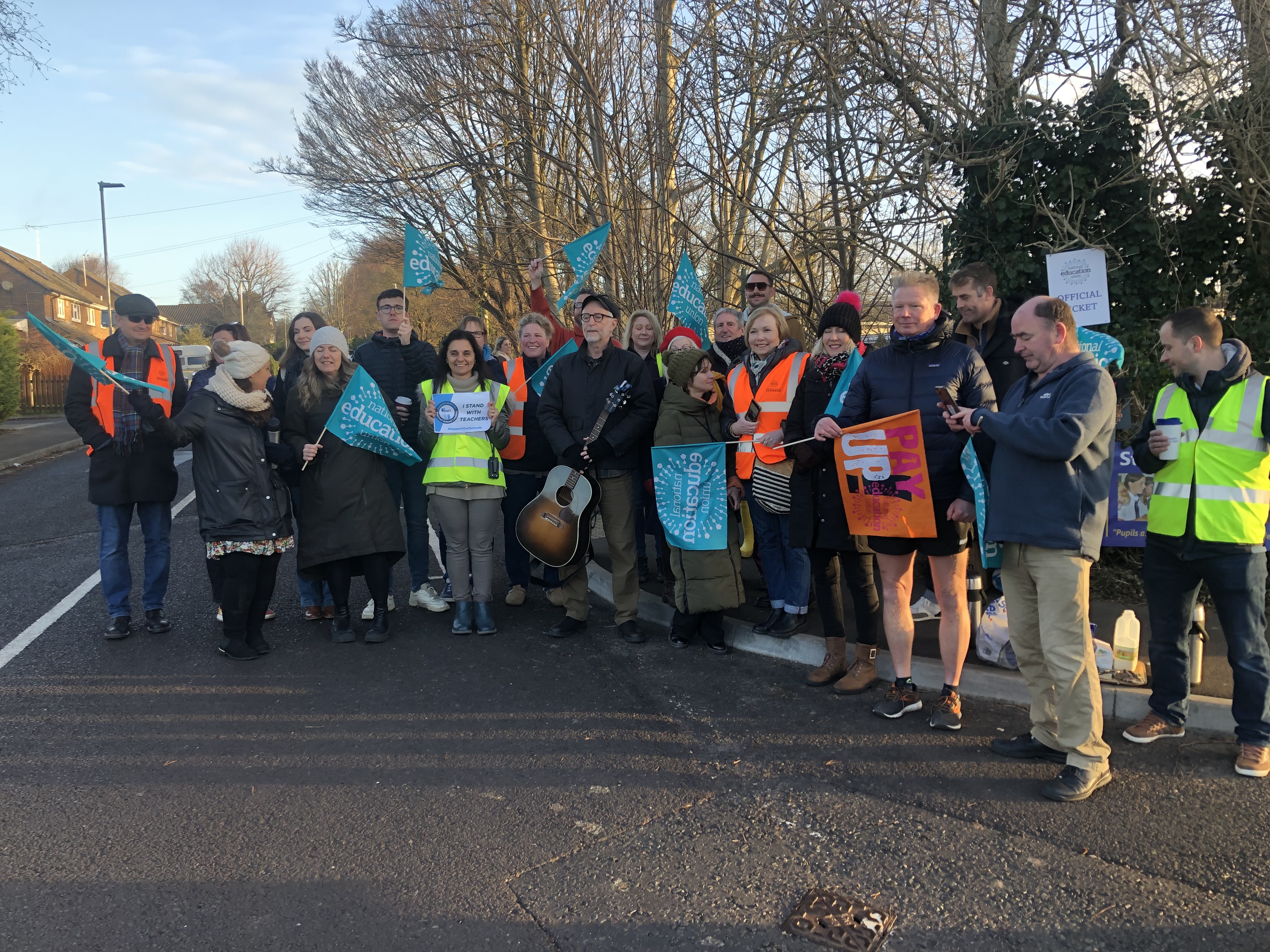 "Doesn't matter what you're doing, doesn't matter what you were doing before now, you're stood here with us and now you've stood in solidarity with your fellow workers – you're part of that tradition.
"And that's a great strength that we have, it's a tradition, it's not just something that people thought up last week.
"It's a long old tradition of solidarity that stretches back all that way."
Bragg was filmed singing at a picket line in Dorchester in January alongside striking nurses.
He rounded off his speech at the school by performing a song originally written by American social activist and folk song writer Florence Reece in 1934.
Headteacher at St Osmund's Saira Sawtell said she was "delighted" by Bragg's appearance.
"We were delighted to have Billy Bragg's support with the long-standing tradition of picket lines and protest," Ms Sawtell told the PA news agency.
"What better ambassador for people voice than Billy – and teachers enjoyed singing with him too!
"I stand with my colleagues from the NEU who are taking action today.
"Staff in schools know very well the impact that long-term chronic underfunding is having on schools and communities… Our nation's children deserve better."
Two teachers at the school and joint National Education Union (NEU) members Hannah Mugridge and Jonathan Anderson echoed Ms Sawtell's sentiment.
"The fact that so many people, including Billy, turned out to picket with us today shows the level of support in the community for a properly-funded education service," they said in a statement given to PA.
"Striking is the last thing we want to do but we feel we have no other option if we want to save our schools."