PM can't pay nurses more due to tax hikes and inflation 'vicious cycle' fears
Rishi Sunak is under growing pressure to end a wave of public sector strikes.
Rishi Sunak has insisted he would "love" to give striking nurses large pay rises, but argued he cannot because he does not want to stoke a "vicious cycle" of inflation or increase taxes.
The Prime Minister is under growing pressure to end the wave of public sector strikes, with a fresh round of mass industrial action set to begin on Wednesday.
Up to half a million workers including teachers, train drivers and civil servants will start the walkouts before nurses and ambulance workers again walk out next week.
But Mr Sunak also faces demands from his Conservative colleagues not to further increase taxes as he tries to hit his target of reducing soaring inflation this year by half.
Mr Sunak was asked: "When are you actually going to pay nurses properly?" as he addressed an audience of health workers during a visit to Darlington.
"I would love – nothing would give me more pleasure – than to wave a magic wand and have all of you paid lots more," he said.
But he argued it is "not an easy job" to balance many competing interests for Government funding, as he warned against further stoking inflation to bring down bills.
"I've got to get a grip of that for all of you, it's the most important thing. If we don't do that we won't be able to afford anything in the future," he said.
"An important part of us getting a grip of inflation and halving it is making sure the Government's responsible with its borrowing, because if that gets out of control that makes it worse and it's about making sure pay settlements are reasonable and fair.
"When we've had periods of high inflation, what happened in the past is everyone said: 'OK, inflation was at 15%, we should all get paid 15%,' and then you have a kind of vicious cycle which you never recover from.
"It would be the wrong thing to do. Of course it would make my life easier to say: 'Yep, sure, great, let's just go ahead.' It would be a bad thing for all of you if that meant inflation was running really high in a year's time.
"Even though it makes my life a bit more difficult today I really think it is the right thing for all of you and everyone else if we just get through this."
He argued tax hikes would also make health workers' lives more challenging as they battle a cost-of-living crisis.
"Where we are with taxes at the moment, we can't put them up any more, right, and we need to be getting them down," he said.
Wednesday will see the biggest day of industrial action in over a decade, when seven trade unions, also including university lecturers, bus drivers and security guards, walk out.
The Trades Union Congress (TUC) has warned this could see up to 500,000 workers on strike as protests are also held across the country against the Government's controversial plans for a new law on minimum service levels during strikes.
Unions have dubbed it the "anti-strike bill", saying it could lead to workers who vote legally to strike being sacked.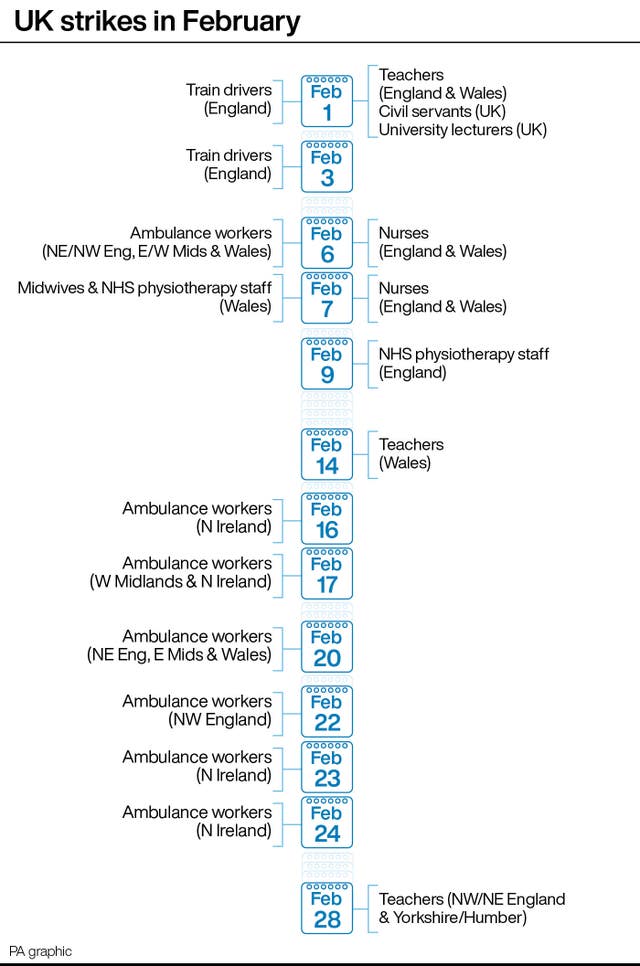 Downing Street urged unions to "step back" from the fresh wave of strikes, raising particular concerns about Wednesday's action.
The Prime Minister's official spokesman said: "We still believe there is time for unions to step back and to call on their members not to strike and avoid the sort of disruption we are expecting to see this week, particularly on Wednesday.
"We think the continuing discussions are the right approach and we'd like to see them continue."
TUC general secretary Paul Nowak said Wednesday will be a "really important day" for workers and members of the public to show support for those taking action to defend pay, jobs and services, as well as for the right to strike.
He told the PA news agency: "I hope it will send a clear message to the Government that they cannot continue to ignore the demand for fair pay.
"In his recent statement on the economy, the Chancellor (Jeremy Hunt) has chosen to ignore the staffing crisis and concerns of millions of public service workers.
"The Government seems tone deaf to the issues that matter to the public."
Mr Nowak said the Government should be worried about the level of support for workers taking strike action.
"I joined physiotherapists on a picket line last week. It was the first time they had been on strike and they were loath to take industrial action, but they received huge support from members of the public, and their mood was upbeat and defiant.
"I think the Government has been taken by surprise at the level of public support for the strikes, because the issues cut across political boundaries."
Mr Nowak said the Prime Minister and Chancellor now had to get involved in trying to resolve the long-running disputes in the health service, education, civil service and other parts of the public sector.
"I wish they would spend as much time trying to resolve the disputes as in attacking the right to strike."
Picket lines will be mounted outside schools, train stations, universities and Government departments on Wednesday, and rallies will be held across the country.
Thousands of people are expected to join a march through central London to Westminster for a rally to be addressed by union leaders.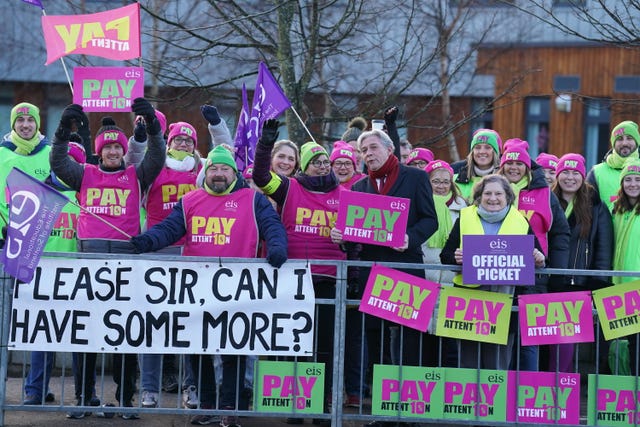 The TUC will also hand in a petition to 10 Downing Street, signed by more than 200,000 people, opposing the new legislation on strikes.
The National Education Union (NEU) has announced seven days of strikes in England and Wales in February and March, with the walkout on Wednesday expected to affect more than 23,000 schools.
Teacher members of the union in sixth form colleges in England, who have already been balloted and taken strike action in recent months, will also take action on these days in a separate but linked dispute.
Wednesday will see the biggest day of strikes since 2011 when a national day of action was held by public sector unions over pensions.
Industrial action will involve members of the NEU, Aslef, Rail, Maritime and Transport union, University and College union, Public and Commercial Services union, Unite and the IWGB.