Sir David Attenborough: 'Internal BBC politics' took my career abroad
The 96-year-old spoke to presenter Chris Packham for Winterwatch.
Sir David Attenborough has said "internal BBC politics" resulted in him spending much of his career documenting wildlife abroad rather than in the British Isles.
The broadcaster and naturalist, 96, said that when he joined the corporation in 1952 he was soon offered Africa as his area of specialism, which suited him "down to the ground".
He is now presenting a five-part series called Wild Isles which aims to shine a light on the impressive nature closer to home.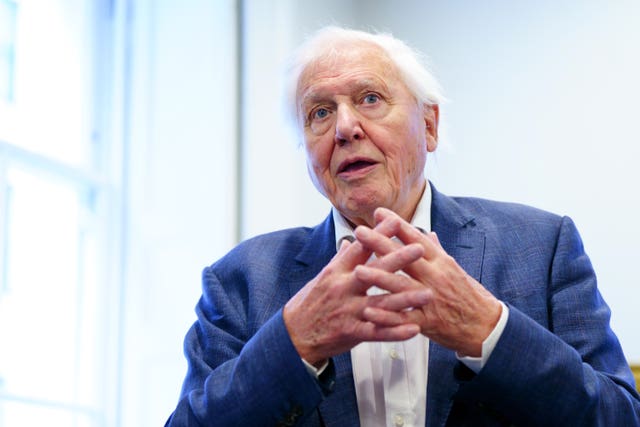 Speaking to presenter Chris Packham for Winterwatch, he was asked whether he had always wanted to make a series about British wildlife.
He said: "Well, yes, and it's just internal BBC politics.
"I joined (the BBC) in 1952, and television was restricted to London only.
"Bristol had a Natural History Unit on the radio but it didn't have television.
"So we had a great meeting and they said: 'Look here, you're doing natural history and I think we should come to some agreement on this, because when television comes here we want to do natural history television. Tell you what, we'll do British natural history, and you can do all this stuff in Africa.'
"And I said, 'That suits me down to the ground' so this is a great ambition fulfilled."
The natural history series will have an introductory episode explaining why Britain and Ireland are globally important for nature.
The remaining four hour-long episodes will celebrate the Isles' four key habitats – woodlands, grasslands, freshwater and marine.
Sir David also addressed the lack of action taken on climate change, saying: "The first half we've done.
"The United Nations, world leaders, people saying the right things, doing the right things, but I don't see the results.
"I have no idea (what's going to happen).
"We just have to keep the pressure on, whether we're winning or losing, we should be doing all we possibly can.
"And I think that we are. Lots of people are, all over, all kinds of organisations."
He also said he "personally won't have a long-lasting legacy" despite his work to improve awareness of the issues affecting the natural world globally.
He added: "But I think that the policy of the BBC of putting on natural history at peak hours and so on, with your programmes and my programmes, has actually raised an awareness of the natural world in British people, which is quite remarkable.
"It's an awareness which I don't think exists anywhere else actually."
The full interview airs on Winterwatch on BBC Two and iPlayer at 8pm on January 26 and 27.
Wild Isles airs on BBC One and iPlayer in spring.