Zara Aleena murder: Probation have 'blood on their hands', aunt says
Jordan McSweeney was released from prison just days before carrying out the brutal attack.
Probation officers have been accused of having "blood on their hands" after failings left a sexual predator free to stalk and kill Zara Aleena just days after his prison release.
Damning findings by a watchdog laid bare a catalogue of errors by probation officers before Jordan McSweeney carried out the brutal attack on the aspiring lawyer.
Farah Naz called for "action and accountability" in the wake of her niece's murder as she branded the Probation Service "incompetent", with "failures by people at the top".
McSweeney, 29, was handed a life sentence and jailed for at least 38 years last month after admitting sexually assaulting and murdering the 35-year-old law graduate in Ilford, east London, in June.
Justice Secretary Dominic Raab ordered a review of how probation staff supervised McSweeney – a career criminal who had been in and out of jail since he was 16 and had a history of violence – when it emerged he was freed from prison on licence nine days before the murder.
In that time, his licence had been revoked after he failed three times to meet probation officers – but he was not recalled to prison.
In a report published on Tuesday, chief inspector of probation Justin Russell said McSweeney was not treated as a high-risk offender when he should have been and chances to get him back behind bars sooner were missed.
Ms Naz told the BBC "heads should roll", adding it is "not good enough" that just one worker faced disciplinary action over the case. No-one has been sacked, according to the watchdog's report.
She said: "Zara's life was taken and probation have blood on their hands."
When asked whether Ms Aleena could be alive today if probation had acted differently, Ms Naz replied: "Yes, absolutely," later adding: "Some people need to be accountable here. If you commission a report… you should be acting on it. If I don't do my job, I don't deserve my job."
McSweeney – who the Commons heard is appealing against his sentence – stalked Ms Aleena as she walked home from a night out, after he had been thrown out of a pub for pestering a female member of staff and trying unsuccessfully to target at least five other women.
Grabbing her from behind and dragging her into a driveway, he repeatedly kicked and stamped on her head and body in a sustained attack lasting nine minutes and resulting in 46 injuries. Ms Aleena, who was training to be a solicitor, was found struggling to breathe with severe head injuries and later died in hospital.
Earlier Ms Naz warned women and girls "are not safe if probation is not doing its job" as she told BBC Radio Four's Woman's Hour that reading the report was "extremely distressing".
Although prisons and probation minister Damian Hinds apologised for the failings in the case, Ms Naz told the programme: "We need much more than an apology… what we need is action and we need accountability."
Her "funny, clever, beautiful" niece was the "complete antithesis of this man that was given a licence to walk the streets freely", she added.
Mr Russell warned that until standards improve, it is "impossible to say that the public is being properly protected" from the dangers posed by criminals on probation, later telling Times Radio: "It could happen again."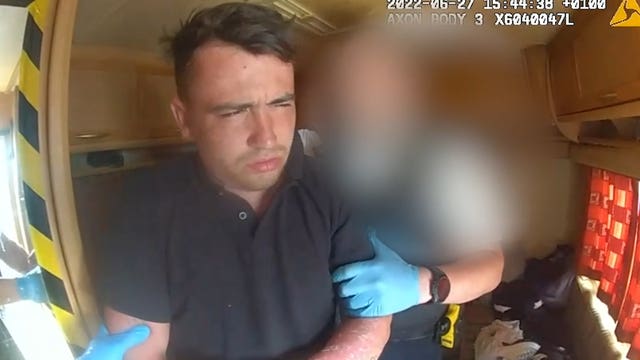 On Woman's Hour, he said probation officers need to be "reminded of the basics, they need to be retrained in how you distinguish between a medium and a high-risk case".
Asked if the Probation Service is fit for purpose, Mr Russell replied: "I think the way that it assesses, manages and reviews risk of harm is not fit for purpose, and that is a key function for the Probation Service, it should be one of its priorities."
Having made 10 recommendations, including calling for an urgent review into how staff gauge the risk criminals pose to others, Mr Russell added: "I'm urging the service to act, to put those failures right and make sure that it improves that critical aspect of public protection in the work that it does."
The report comes just a week after the watchdog revealed another litany of failings by probation officers before Damien Bendall murdered three children and his pregnant partner.
It also follows concerns raised nearly three years ago after serial rapist Joseph McCann carried out a series of sex attacks when he was freed from prison amid major failings by an "unstable" team of inexperienced probation staff.
Mr Hinds told MPs the reviews of Bendall and McSweeney set out "clear and serious failings by the Probation Service", adding: "I am profoundly sorry for these failings and the Deputy Prime Minister and I are seeking opportunities to make apologies in person.
"It is incumbent on us now to do everything we can to ensure they do not and cannot happen ever again."
He said "immediate" steps being taken by the Government to tackle the problems include mandatory training to improve risk assessments and introducing new procedures to "guarantee the swift recall of offenders".
Thousands more probation officers will be hired as part of £155 million being spent on the Probation Service to provide "tougher supervision, protect the public and ensure these sorts of tragedies can never happen again", Mr Hinds said.
The Court of Appeal office confirmed McSweeney has lodged an application for permission to challenge his sentence.