Many schools will close during strikes after the National Education Union received tens of thousands of new members, a union boss has suggested.
Mary Bousted, joint general secretary of the National Education Union (NEU), has called on school leaders to let parents know ahead of February 1 if they plan to shut their doors during strike action next week.
The NEU said it has received 22,000 new sign-ups in the past week after announcing it will launch seven days of walkouts throughout February and March in England and Wales.
Asked if there is likely to be more disruption due to the influx of new members, Ms Bousted told the PA news agency: "I think the action will be stronger because we've got a bigger membership. People join so they can take part in the action."
Ms Bousted said she is expecting more than 100,000 teachers to strike on February 1 – the first day of industrial action – which she has said will result in "lots of schools" closing.
On the sign-ups, she said: "It's because there's a deep and prolonged anger about the circumstances in which they're working."
Asked how many teachers could strike next week, Ms Bousted told PA: "Definitely over 100,000 but I think many more than that."
"Lots of schools will close. In areas where the NEU is the biggest union and has a really strong density like London, there will be lots of schools closed," she added.
Guidance from the Department for Education suggests agency staff and volunteers could be used to cover classes on strike days, with schools expected to remain open where possible.
But many parents are still waiting to hear if they will need to make childcare arrangements on February 1 as school leaders across England and Wales are trying to work out whether they can keep their doors open.
The NEU is required by law to provide schools with the number of members in a workplace ahead of the planned strike action, but the union does not have to provide the names of individual members to employers.
Asked if headteachers should tell parents of closures before February 1, Ms Bousted said: "They have to make the call before that.
"They know how many NEU members are in their school – many more will have joined since the ballot – and they have to make their decision on the basis that the union has called its members out and the members will take action."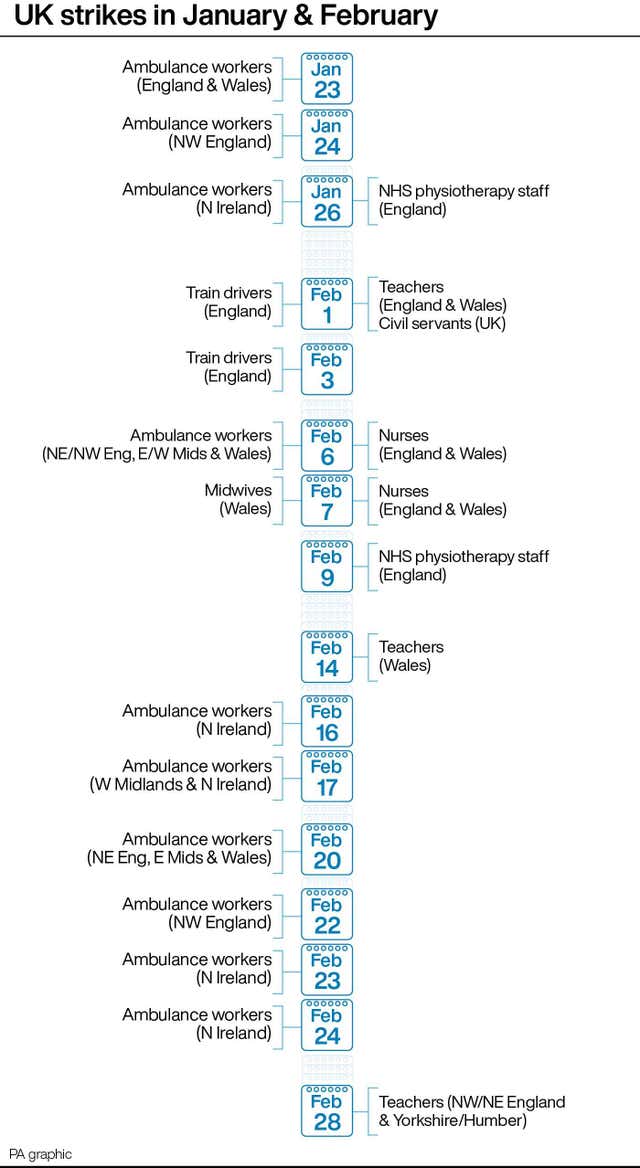 Education Secretary Gillian Keegan wrote to NEU leaders on Saturday asking questions about the timing of the announcement of their strike ballot results.
In the letter, published on the NEU's website, Ms Keegan questioned why the union decided to announce their ballot results on social media late on Monday afternoon before providing the results directly to employers on Tuesday.
In its response to Ms Keegan, the NEU said: "We think it would stretch credulity to suggest the union did not take all steps as were reasonably necessary to ensure all members and relevant employers were informed of the results of the ballot as soon as was reasonably practicable."
Some 300,000 teachers and support staff were asked to vote in the NEU ballot – and more than 127,000 teacher members and 16,000 support staff members in England and Wales backed action.
The NAHT school leaders' union and the NASUWT teachers' union both failed to achieve the 50% ballot turnout required by law for its members to go out on strike over pay in England.
Both unions are considering balloting members again over pay.
Ahead of the walkouts next week, Ofsted has said it will schedule on-site school inspections and notifications of inspections to avoid strike days.
The watchdog said it will monitor the situation during this first wave of strikes in February and review "if necessary" for future dates.
Geoff Barton, general secretary of the Association of School and College Leaders, said: "School leaders are currently in the process of working out what provision they will be able to provide during periods of industrial action.
"The decision around whether to keep a site open will be taken following a risk assessment considering the safety of staff and students, and taking into account the number of staff they expect to have available who are not involved in industrial action.
"We call upon the Government to avert strike action by committing to an improvement in pay and addressing the teacher recruitment and retention crisis. There is still time to resolve this dispute."
A Department for Education (DfE) spokesperson said: "There are clear legal obligations on trade unions to inform employers of the outcomes of ballot results and notify them of intentions to strike.
"It is only right that the department seeks to ensure that these obligations have been met as part of continued correspondence with the NEU over industrial action.
"Our goal remains to keep as many children in schools as possible, therefore, ensuring schools are given as much notice as possible is vital."