Cricket Scotland chief denies his comments were 'casual racism'
Gordon Arthur was discussing things he had previously said to a Holyrood committee on barriers facing ethnic minorities in the sport.
Cricket Scotland's chief executive has denied "casual racism" claims relating to his previous comments on barriers facing ethnic minorities in accessing the sport.
In evidence to the Scottish Parliament's Health, Social Care and Sport Committee, Gordon Arthur, who was joined by new chair Anjan Luthra, said his comments were not intended to be a "generalisation".
Mr Arthur, in a previous evidence session in October, said young people were leaving the sport because of pressures from family to succeed in education – a comment which Labour MSP Paul O'Kane said could be "perceived as quite stereotypical" of many Asian communities.
Tory MSP Dr Sandesh Gulhane said he had been "personally quite upset" with the comments.
But Mr Gordon told the committee on Tuesday that his comments were in relation to the story of Mr Luthra, who had been appointed as chair just two days after his comments.
And he said Running Out Racism – a group challenging prejudice in the sport – had held him to account on the comments.
"I had many conversations with Running Out Racism after the session last time about those words and what my intentions had been," he said.
"And I was accused of casual racism from the words I said, which was not my intention at the time.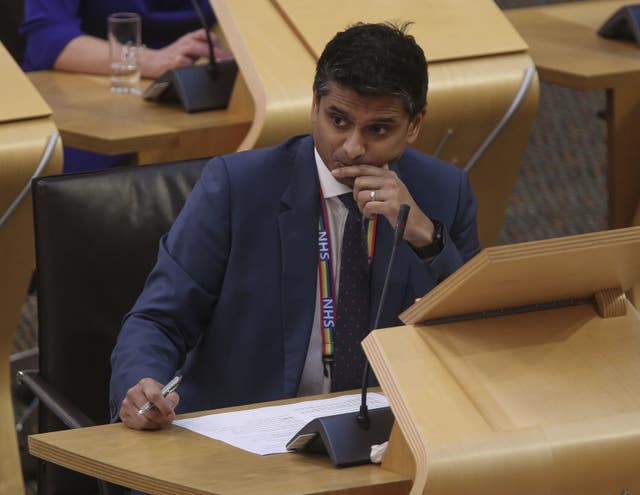 "In fact, it was two days before Anjam was appointed and his story was the story I had in mind when I said that, because I think he will tell you when he, aged 19, was pretty much told to pack in cricket and go get a job.
"It was that story that was in my mind when I was saying that at committee last time. It wasn't intended to be a generalisation. That was what was in the back of my mind."
Casual racism refers to the use of negative stereotypes or prejudices about a race or religion.
He added: "We need to make sure that as many people come through the age groups in cricket and get an equal opportunity, if they wish to, to progress."
He said the organisation had since been working with Running Out Racism to look at how to "dismantle the barriers in the selection pathways".
Dr Gulhane told Mr Arthur: "I was personally quite upset with some of those words that you made at the last committee hearing that we had.
"Whilst that is Anjam's story, we don't know if that is the story for everyone because you don't have the data, which is why I think it is so important that you get it as a matter of priority.
"If you don't know why people are leaving, then, surely you can't dismantle the barriers."
Earlier in the session, Dr Gulhane asked what the ethnic diversity mix of players from differing age groups across Scotland was.
However, Mr Luthra said any attempt to answer the question would simply be "anecdotal" as the systems to gather the data were not yet in place.
Cricket Scotland had been placed into special measures last year after a report found 448 instances of institutional racism.
The entire previous board resigned 24 hours before the report's release, with the investigation instigated following claims of former internationals Majid Haq and Qasim Sheikh.