Revered historian Professor Mary Beard said she offered to become the personal Latin tutor to the Duke and Duchess of Cambridge's three children as she collected her damehood from Buckingham Palace.
The broadcaster, well-known for her documentaries and appearances on the BBC, said she would do "anything" to ensure princes George and Louis, and Princess Charlotte, grew up with an understanding of the ancient Roman language.
Speaking moments after she received the honour for services to the study of classical civilisation from William at Buckingham Palace, Dame Mary told the Press Association: "Well, I hope he was listening. Of course he was very polite and said: 'I'll have to get you to teach them', and I said: 'Anything!'"
She joked: "I didn't quite say: 'You get the little squits to learn Latin…' but I did say you get them to learn because it is very important.
"It's important to learn where we've been and where we've come from, and for people to have access to some of the most extraordinary and influential literature in world culture.
"That kind of direct connection with something so influential written so long ago is, I think, terribly important.
"Of course, because it was a very happy and joyous occasion in which we were being friends, he left me with the strong impression that his children would be learning Latin.
"But he was bound to. It would be rude for him – and I'm sure he wouldn't – to say: 'Well we looked at that and we really think it's a waste of time'.
"Gratified as I was to feel his general warmth over this, I think I'd be foolish to think I single-handedly convinced him to teach them Latin."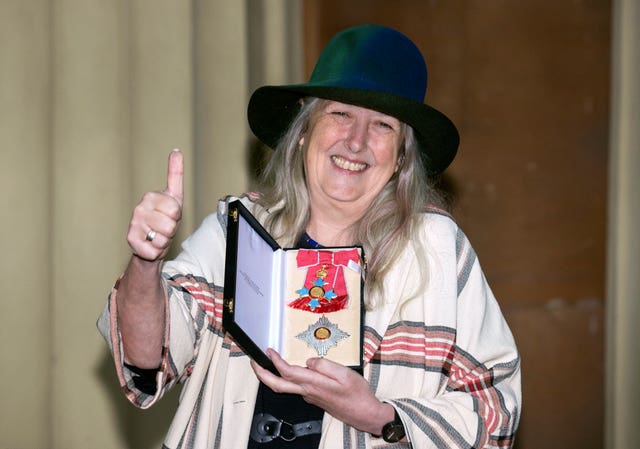 Dame Mary was at the palace five years on from receiving her OBE for services to classical scholarship.
The Cambridge University professor previously said she had "a "touch of republican" about her, but felt much more comfortable accepting the honour now she was "older and wiser".
The 63-year-old said on Friday: "Had somebody said to me at 23 that I would accept a damehood of the British empire, I would have said: 'Sorry, sunshine, that's not what my politics is all about'.
"But I've grown older and wiser, and I think that it does seem an odd title – a mixture of pantomime, because dames cart around the stage, don't they? – and we don't have an empire any longer.
"That makes it quaint, charming, and doesn't have those bits of politics attached to it."
The academic married art historian Robin Cormack in 1985. They have a daughter, Zoe and son, Raphael.
She was joined at the palace by engineer Roma Agrawal, who worked on the Shard landmark in central London, and milliner Rose Cory, who was appointed to the Queen Mother. Both received MBEs.