Baby-shaking murder trial father tells jury he could be 'heavy-handed'
Six-month-old Kayden Walker suffered 'catastrophic' brain injuries after a fatal collapse at the family home.
A father accused of murdering his baby son has told a jury he could be "heavy-handed" but has denied fatally shaking the child.
Ricky Walker told a court be believed a folded-up hoodie he used to "prop-feed" six-month-old Kayden Walker "slipped" over his face, and suffocated the child.
Birmingham Crown Court has been told Kayden died after going into cardiac arrest at his home in Walnut Close, Bilston, West Midlands, in June 2016.
Jurors have heard expert medical evidence that the child suffered "catastrophic" brain injury, including bleeds, and an "impact" to the head, before he stopped breathing.
The prosecution has alleged Walker caused the fatal collapse of his son through forceful shaking.
As he gave evidence in his own defence for the first time on Thursday, Walker was asked by his barrister Rachel Brand QC what happened on the afternoon of Sunday, June 12, 2016.
The 27-year-old told how, having been cleaning the kitchen, he turned and saw the hoodie on Kayden "over his face".
He went to his son, who he had strapped into a bouncer chair and put on the sofa, and removed the hoodie.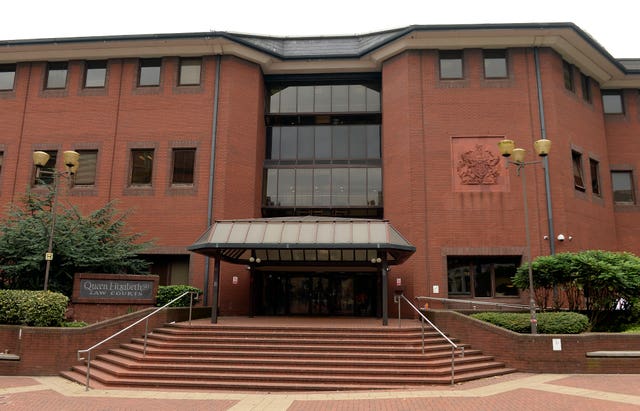 He said: "I took it off him, but he didn't raise his arms.
"He should have moved or something."
Walker, who said he started to "panic", was then asked if the baby looked pale, to which he replied: "He always looked pale."
He added: "I gave him a little shake, to try and rouse him."
Ms Brand asked: "That word shake was used when you were interviewed by police and they asked you whether you had shaken him hard?"
Walker replied: "I still say no, I didn't shake him hard, he's only a baby.
"But I am heavy-handed, though."
He told how Kayden was not breathing and appeared lifeless, so he dialled 999, however nothing could be done to save the child.
Ms Brand asked Walker: "You're charged with murdering your son.
"Did you do anything to Kayden violently, which could have caused his death?"
"No," he replied.
"I love and care for my child."
A post-mortem examination uncovered evidence of an old head wound which had bled between two and four weeks before Kayden's fatal collapse.
Walker, of Kendrick Road, Moxley, Bilston, suggested an older child could have been responsible for striking the baby on the head, but denied ever himself hitting the youngster.
Walker said Kayden's mother, Laura Davies, 25, was out of their flat at the time of the baby's collapse and he never saw her strike the child.
Under cross examination, Paul Mason QC, for the prosecution, asked him: "The collection of injuries to Kayden could not have been caused by suffocation.
"You tell us please, what caused those injuries to your little boy, that Sunday lunchtime?"
Walker replied: "I don't know.
"The brain injuries were probably through me panicking and that, but I can't explain how he went unresponsive."
He was then asked why he had said he was "heavy-handed", to which Walker replied: "Because I am."
Mr Mason asked: "So are you perhaps suggesting you do accept that you have have gone over the top when shaking your little boy?"
"No," replied Walker.
Walker, who is further charged with causing of allowing a child's death and child cruelty, denied getting angry or losing his temper with the child.
Laura Davies is also standing trial, and denies causing or allowing the death of a child.
Jurors had been directed to find her not guilty of a charge of child cruelty.
The trial continues.