Hammond buoyed by positive forecasts on borrowing, debt and growth
The official forecast for growth was upgraded by the Office for Budget Responsibility.
The Government's official forecaster has upgraded projections for growth and predicted falling inflation, debt and borrowing, in a boost for Chancellor Philip Hammond.
In his first spring statement to the House of Commons, Mr Hammond revealed that the Office for Budget Responsibility now expects state borrowing to be £45.2 billion this year – some £4.7 billion lower than predicted in November and £108 billion lower than in 2010.
The Government is set to run a "small" surplus on day-to-day spending in 2018/19, borrowing only for capital investment, said the Chancellor. And the Government is forecast to hit its borrowing target for 2020/21 with £15.4 billion headroom.
Debt is forecast to be 1% lower than expected at the time of last autumn's Budget, peaking at 85.6% of GDP in 2017/18, before falling gradually to 77.9% in 2022/23.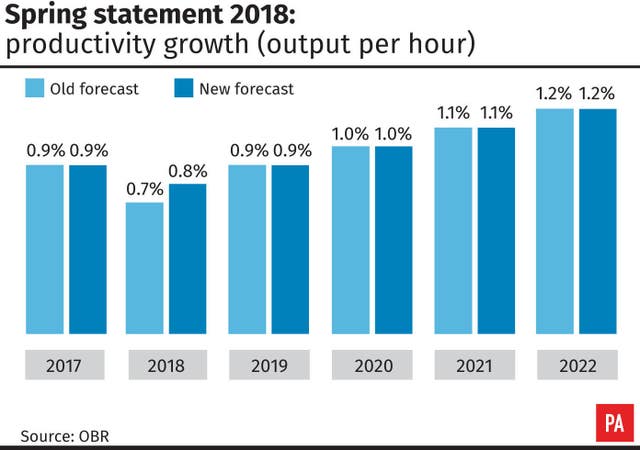 The OBR upgraded its prediction for GDP growth in 2018 from 1.4% to 1.5%. Growth in 2017 was 1.7%, compared with the 1.5% forecast by the OBR last year.
Forecast growth is unchanged at 1.3% in 2019 and 2020, before rising to 1.4% in 2021 and 1.5% in 2022, the Chancellor said.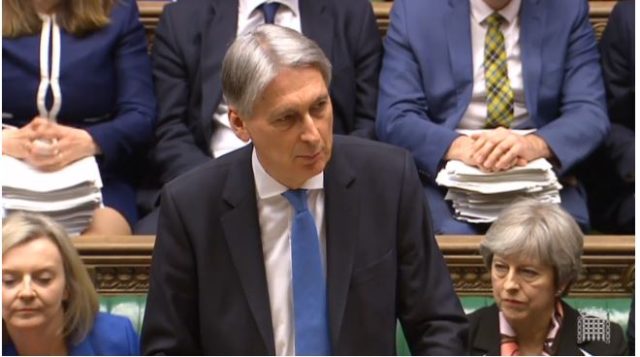 He told MPs: "If, in the autumn, the public finances continue to reflect the improvements that today's report hints at, then … I would have capacity to enable further increases in public spending and investment in the years ahead, while continuing to drive value for money to ensure that not a single penny of precious taxpayers' money is wasted."
Mr Hammond rejected Labour "doom and gloom" over the state of the economy, saying the recession repeatedly forecast by shadow chancellor John McDonnell since 2010 had failed to materialise.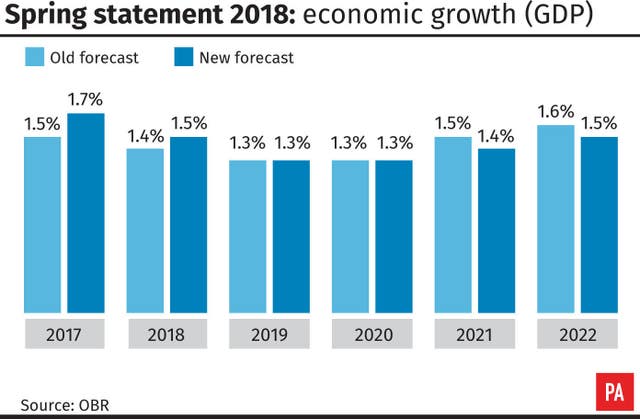 This amounted to "solid progress towards building an economy that works for everyone", he told MPs.
And he claimed that Labour plans would soak up all of the reduction in borrowing achieved over the past eight years, adding £350 billion to debt and taking the figure over 100% of GDP.
The Government had taken "another step on the road to rebuilding the public finances decimated by the party opposite, and one that they would again place at risk," he told MPs.
Playing on his own reputation for gloom, he joked: "If there are any Eey-ores in this Chamber, they are over there. I, meanwhile, am at my most positively Tigger-like."
But the director of the respected Institute for Fiscal Studies thinktank, Paul Johnson, said: "Not that much to be Tiggerish about here. Growth forecasts dreadful compared with what we thought in March 2016, dreadful by historical standards and dreadful compared with most of the rest of the world."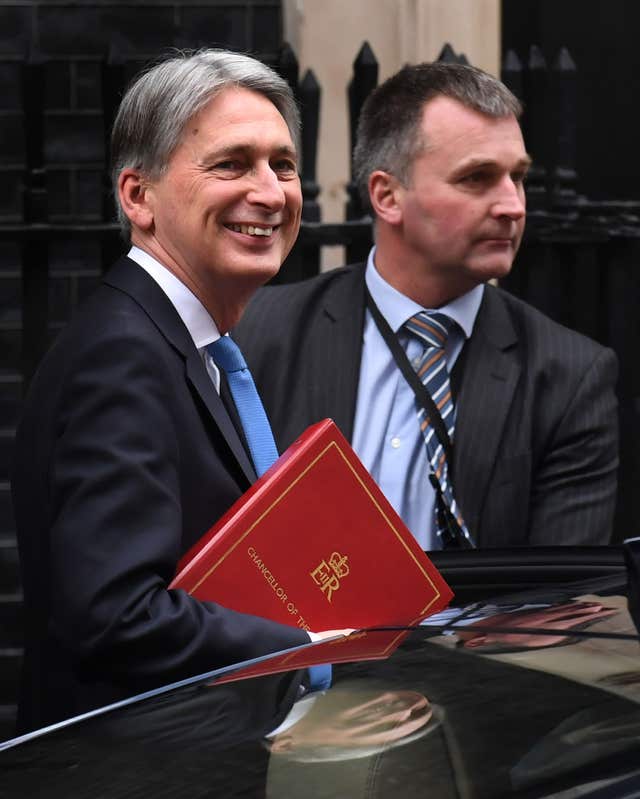 Mr McDonnell told the Commons: "We face in every public service a crisis on a scale we've never seen before."
And referring to the Chancellor's Eeyore reference, shadow communities secretary Andrew Gwynne joked that Mr Hammond was "talking Pooh".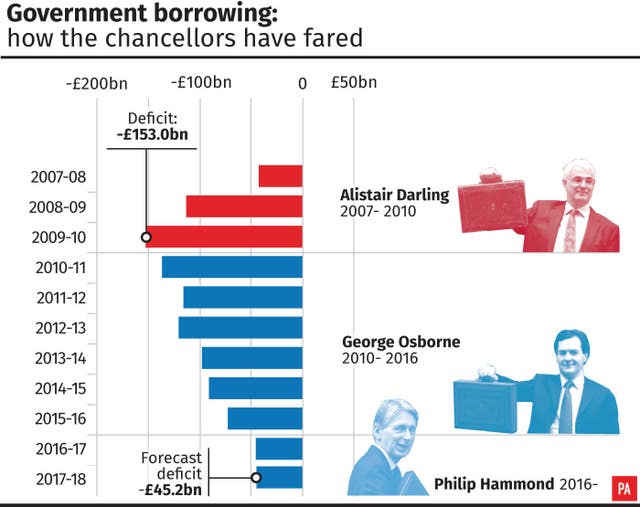 Public services cannot wait eight months for the autumn Budget for an injection of funds, warned Mr McDonnell, adding: "For eight years they have been ignored by this Government and today they've been ignored again.
"The Chancellor has proclaimed today that there is light at the end of the tunnel. This shows just how cut off from the real world he is."