What is it?
>
The electric car market doesn't hang around. When the original Audi e-tron was launched in 2018, it was one of the very first 'premium' electric SUVs around and marked a whole new electrified age for the four-ringed manufacturer. These days, however, things aren't quite so simple with rivals of all shapes and sizes now available.
It's why Audi has seen fit to give its e-tron a bit of a refresh. Now badged Q8 e-tron – to bring it closer into line with the rest of the range – it's got a whole host of updates and additions. But can that help it to rise to the top of the EV pile? We've been finding out.
What's new?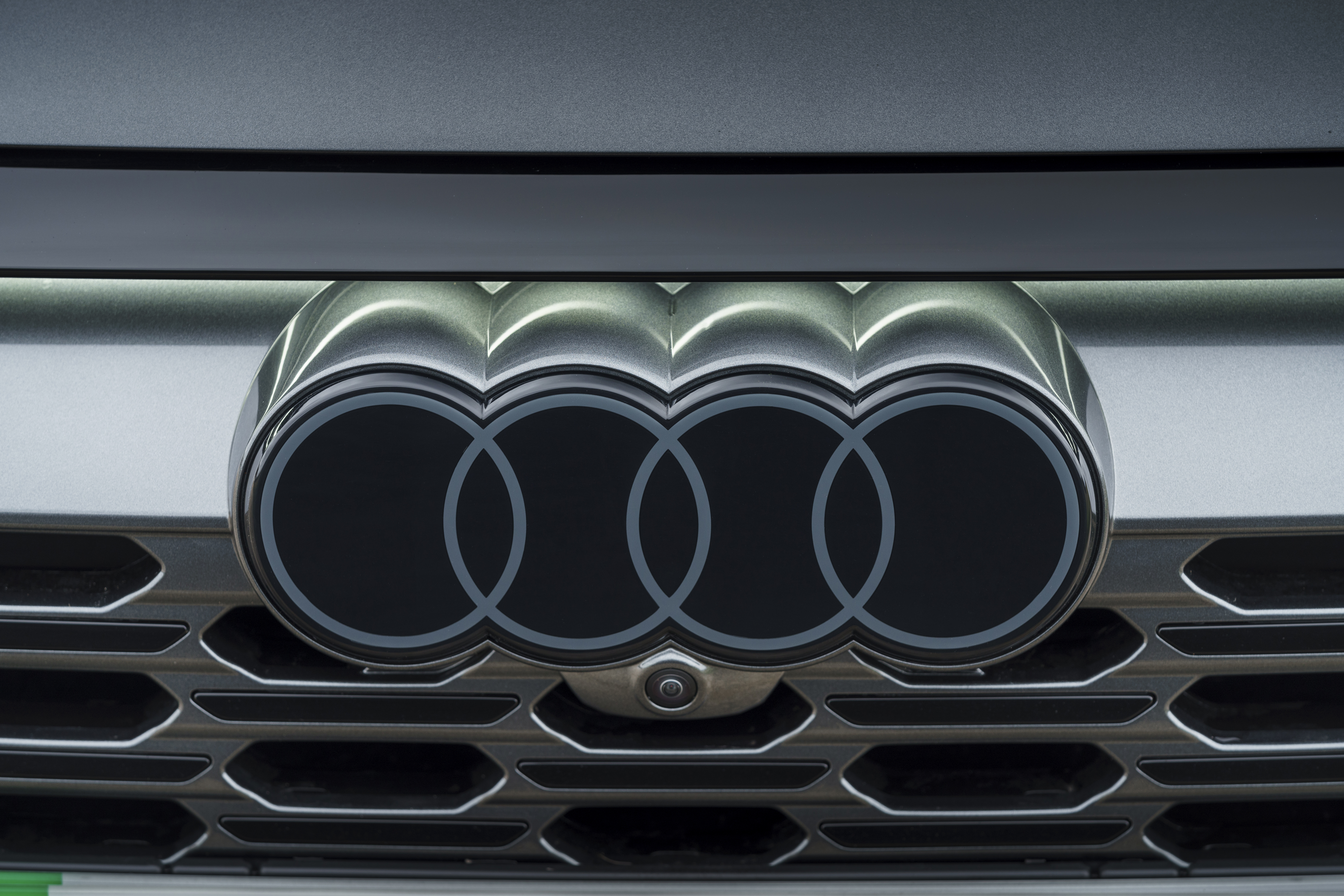 >
Central to the 'new' parts of the Q8 e-tron is a larger battery which means more range – something absolutely crucial in a high-end EV. More on that later, however, as the rest of the changes revolve around an updated exterior design which is a little more futuristic than before. You might notice that the Q8 e-tron wears Audi's new 'flat' logo design now, too.
That redesign is far from just skin deep, however, as revisions to the car's aerodynamics mean that it's better equipped to 'cut' through the air than before. Again, this helps maximise range.
What's under the bonnet?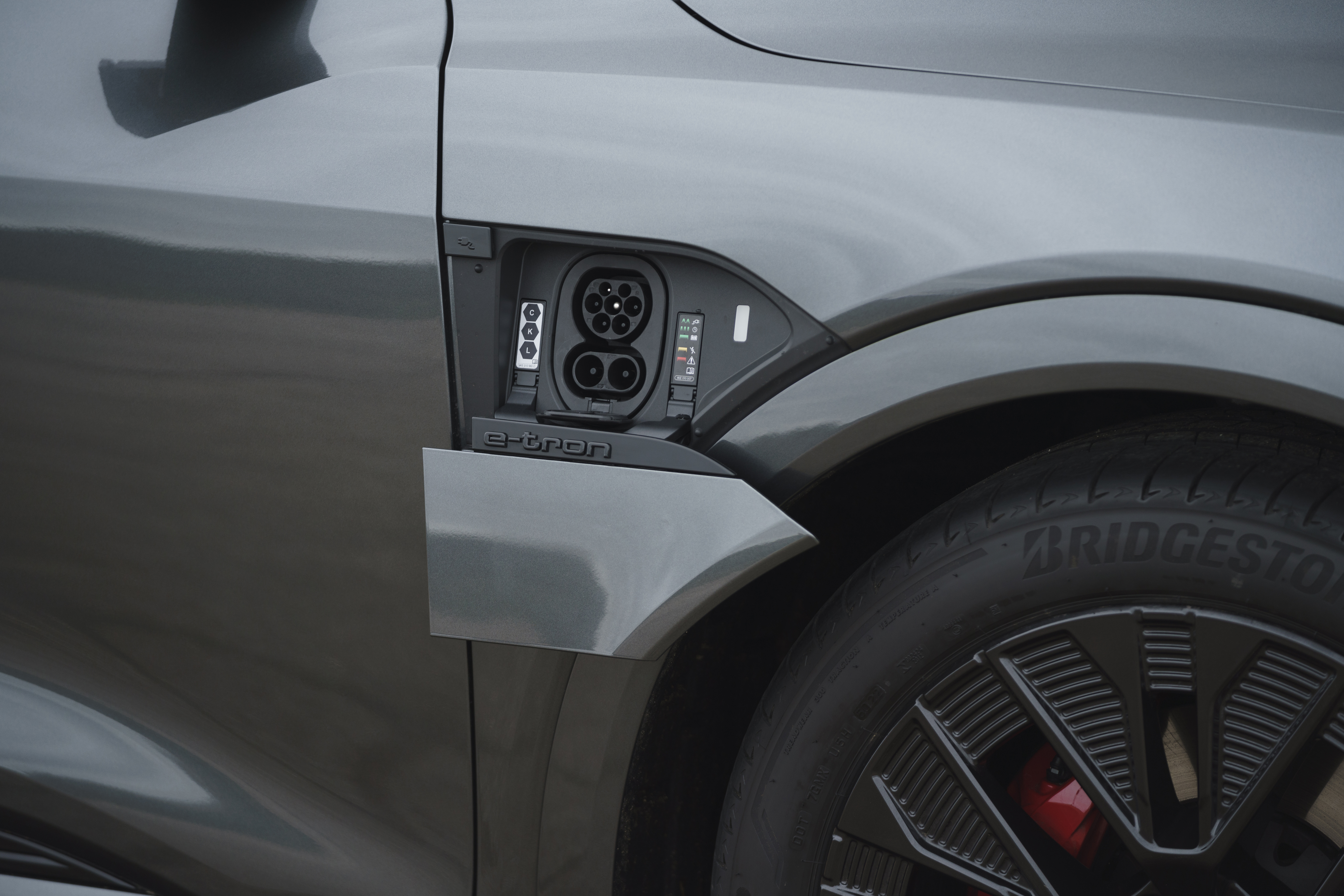 >
We're driving the 55 quattro today which, in Sportback specification, delivers up to 343 miles of range from a charge. You slightly less range – up to 330 miles – in the regular Q8 e-tron as a result of its less aerodynamically-efficient bodystyle. It's significantly more than the 274 miles you would've got from the old e-tron 55.
Zero to 60mph comes in just 5.4 seconds and it'll top out at 124mph, too. It's worth mentioning, too, that all Q8 e-tron models come with a dual-motor setup, lending them all-wheel-drive. Fast charging means that the 55 e-tron's 106kWh battery can be taken from 10 to 80 per cent in as little as 31 minutes when you're hooked up to a suitably rapid charger,
What's it like to drive?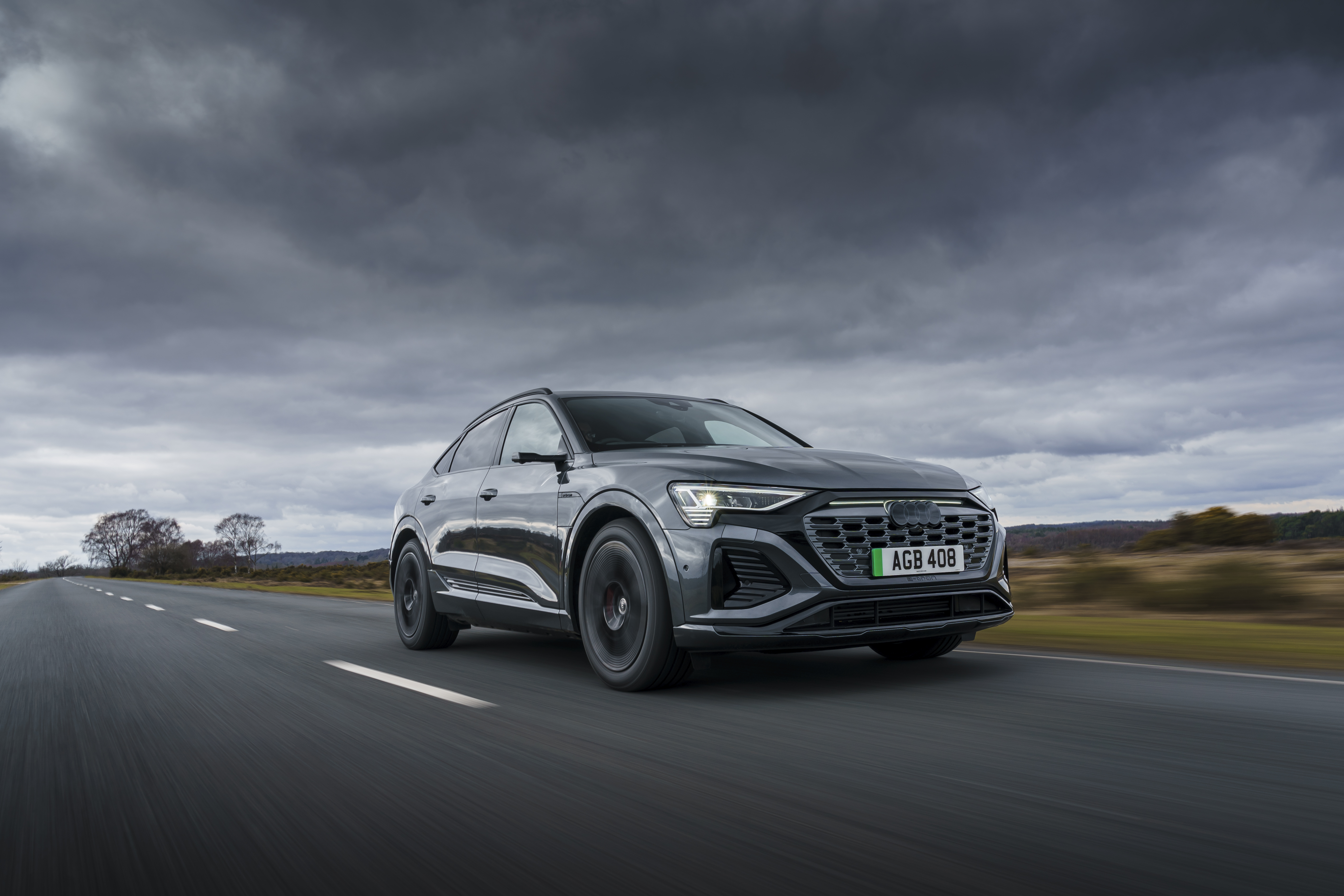 >
The Q8 e-tron remains just as comfortable and refined to drive as the original e-tron was. Audi has tweaked the car's steering slightly, but it still feels very progressive and easy to judge. The acceleration that you're able to access remains impressive, too, and the Q8 e-tron gets up to speed in a way that's not all that believable for a car of this size.
There's still a small amount of bristle at lower speeds – the Q8 e-tron sometimes struggles to deal with potholes or road imperfections. However, once you increase the pace it's very relaxed and plush, with good suppression of exterior noises. There's a small amount of sound generated by the tyres, mind you, and this is the only thing to disturb an otherwise quiet cabin.
How does it look?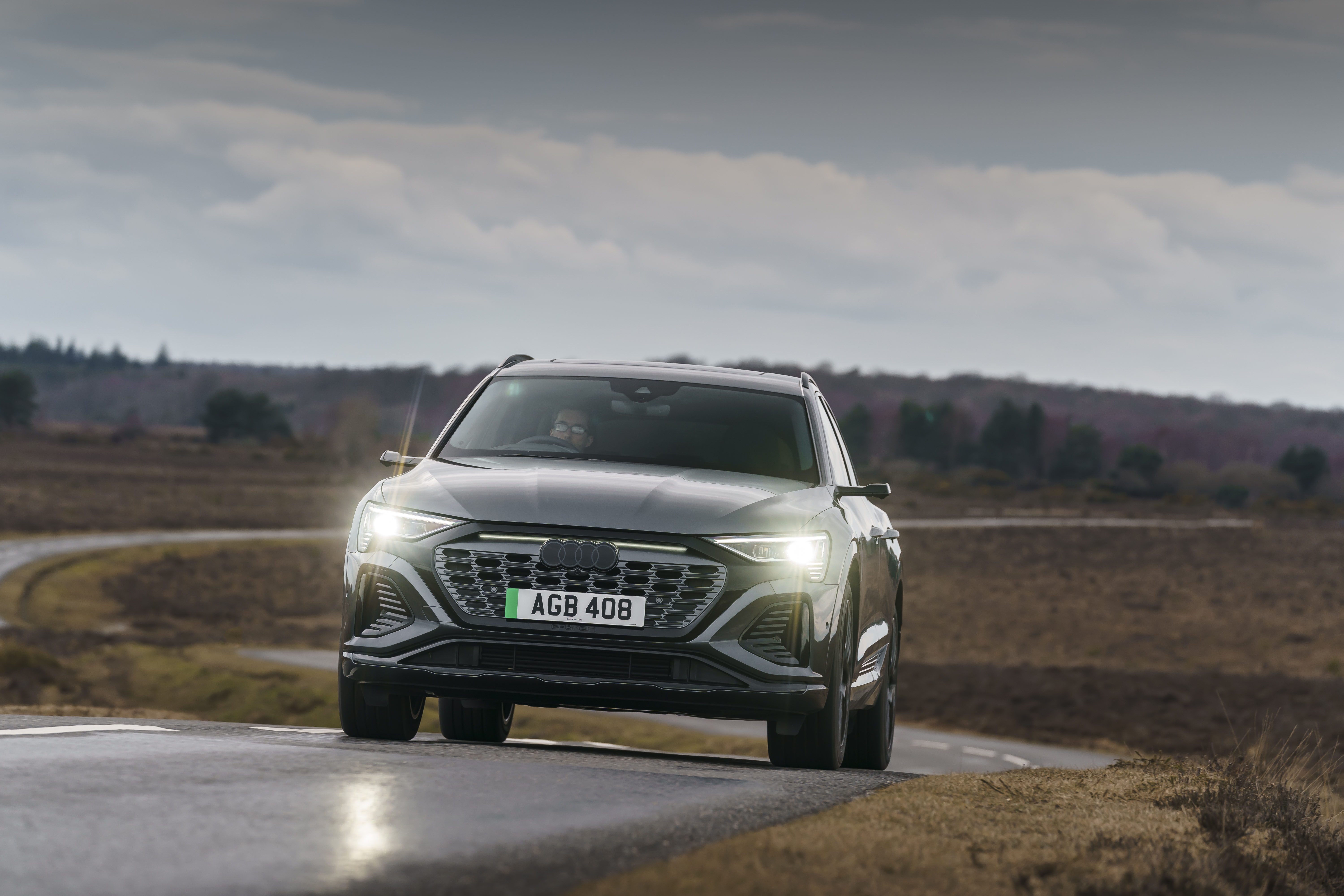 >
Audi has really switched up the exterior design of the Q8 e-tron. The first-generation e-tron was a rather more understated affair, but we've now got a completely redesigned front end which incorporates a single light bar which runs across the top of the grille – a must-have in the current EV market, it seems.
Around the back, things play a little closer to this car's predecessor. But, as we've mentioned, the whole exterior has been made more aerodynamic than before with special inlets at the front helping to channel air around the wheels.
What's it like inside?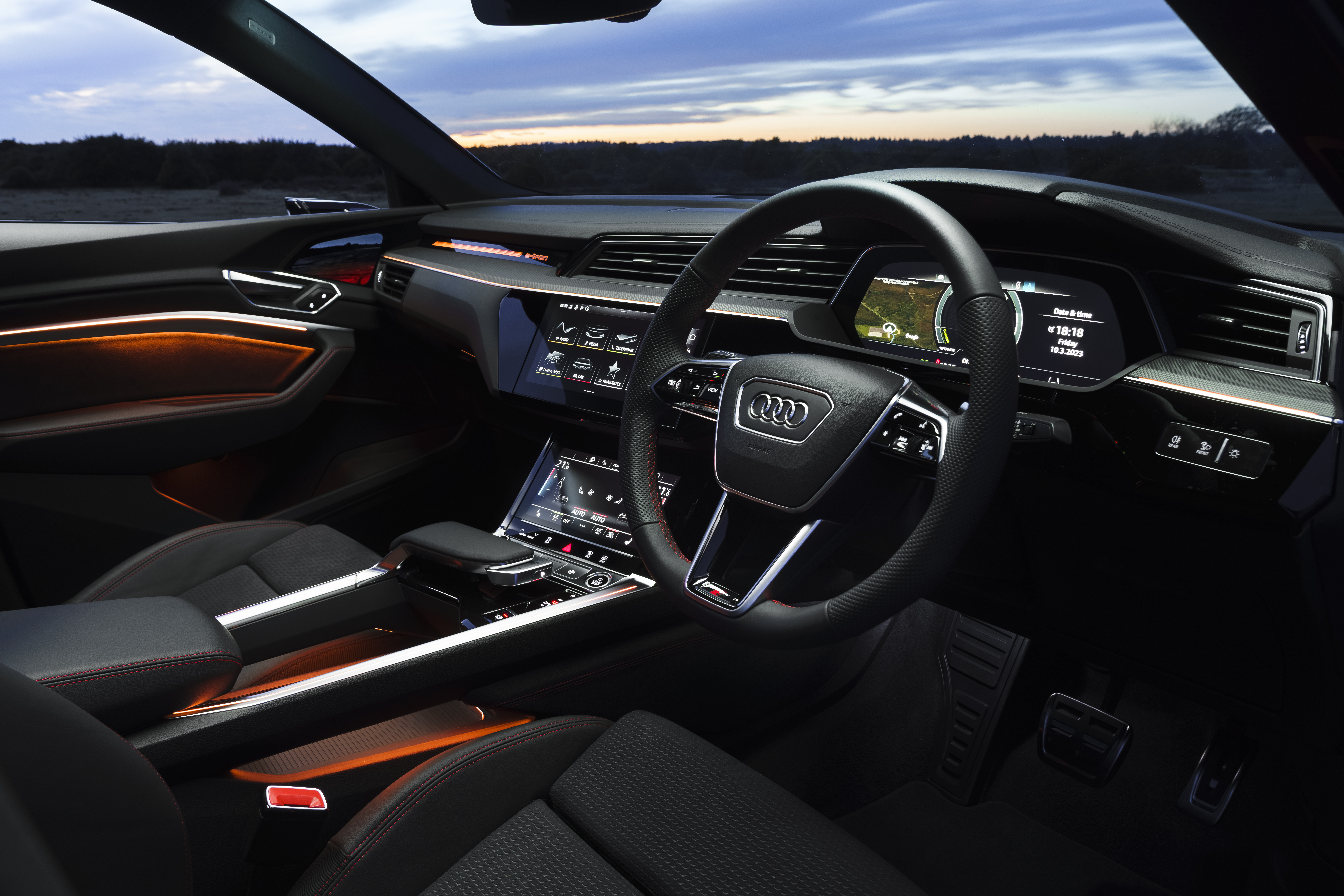 >
The basic architecture of the Q8 e-tron's cabin remains the same as before, but that's no bad thing. You still get plenty of space, with good levels of headroom available throughout. Fit and finish is great, too, with material quality being very high across the board. There are 528 litres of boot space in this Sportback version, too, or 569 litres in the standard SUV due to its more upright design.
We also like that the Q8 e-tron retains the original car's 'frunk'. This 62-litre storage area housed within the 'nose' of the car is ideal for storing the charging cables within and means you don't have to place them inside the car when wet or gritty. It's a shame that more EVs don't feature this design, in truth.
What's the spec like?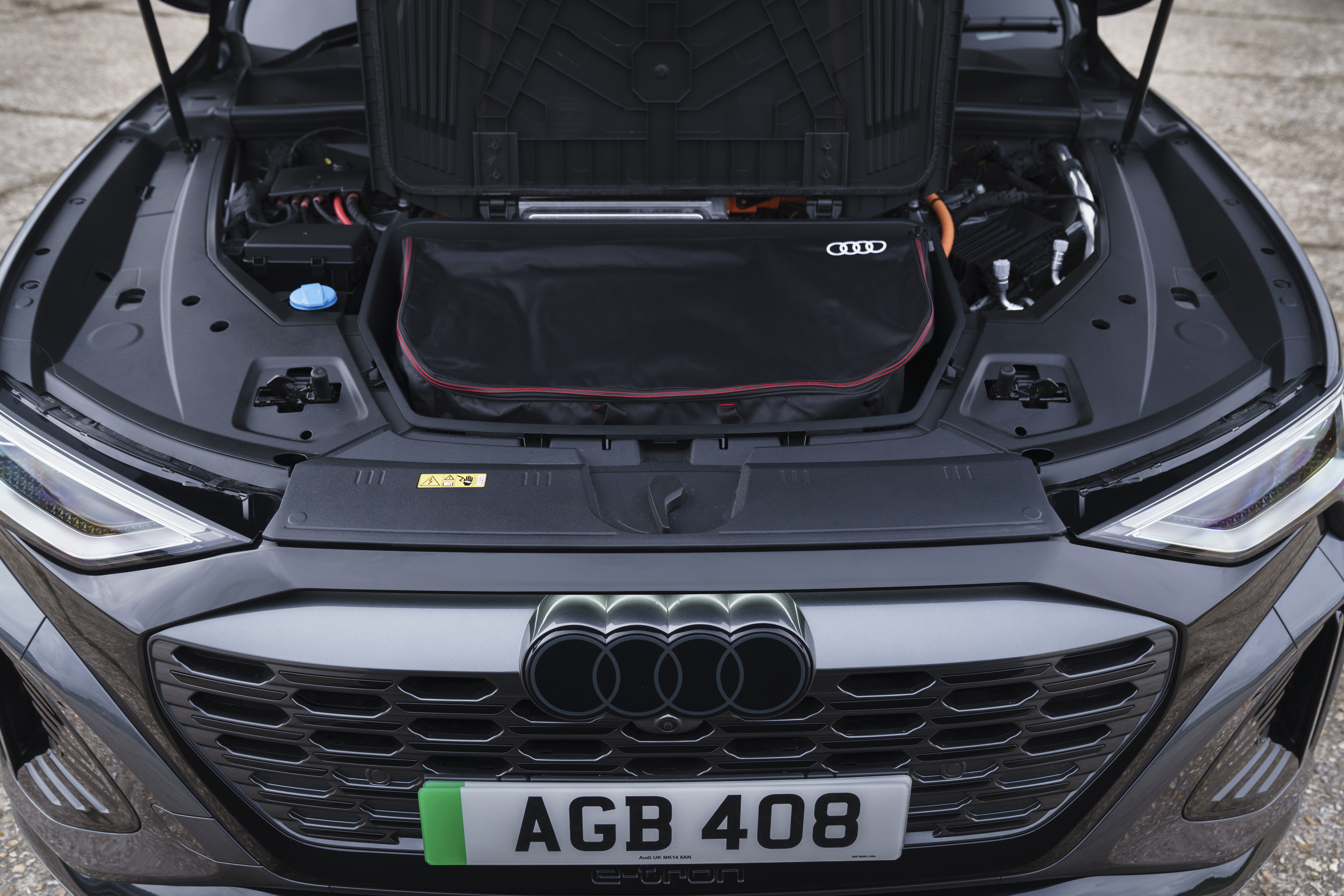 >
Our car came in 'Launch Edition' specification, which was a limited-run affair. However, the standard range includes Sport, S Line, Black Edition and Vorsprung, with prices kicking off from £67,800 for a Sport-specification car with the smaller battery option. Standard equipment is more than plentiful, mind you, with 20-inch alloy wheels, adaptive air suspension and leather upholstery all included from the off.
You can continue to get Audi's 'Virtual Door Mirrors' on the Q8 e-tron, too. They replace the standard wing mirrors with a camera that projects an image onto small screens mounted in the corners of the front part of the cabin. Though quite an exciting feature, they're a little less intuitive to use than just using the 'standard' mirrors and you often find yourself looking at the wrong place when checking behind.
Verdict
The refinements that Audi has made to the Q8 e-tron have definitely helped to spruce things up. Most importantly, that extended range means that the Q8 e-tron has even more long-distance appeal than its predecessor.
Against a number of rivals – including the striking BMW iX – the Q8 e-tron still feels right on the money, while its redesigned exterior means it's got the looks to match now too.