What is it?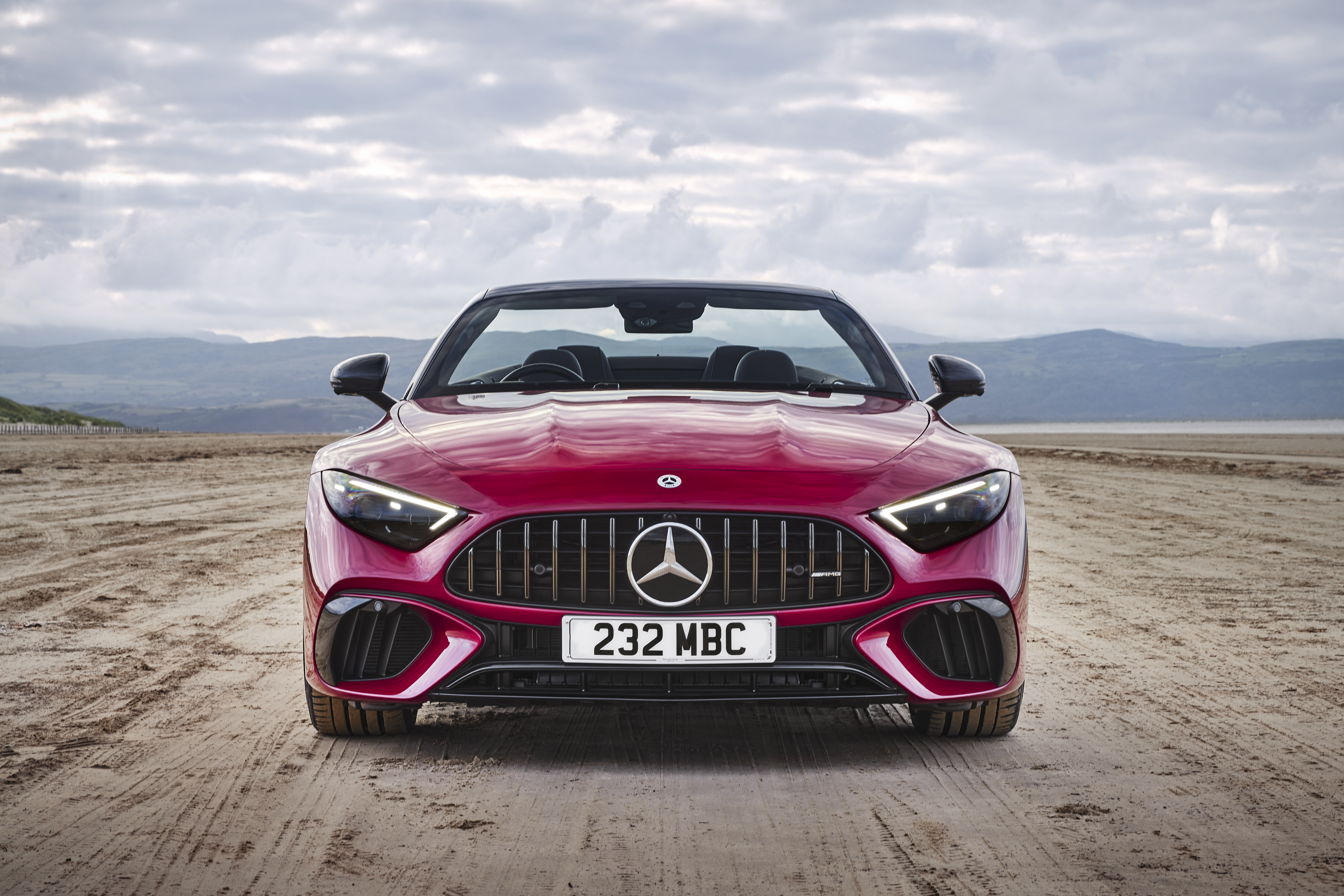 >
The SL has been a mainstay of the Mercedes range for a long time now. The original 'Super Light' has represented something of a multi-tool kind of sports car that'll gladly do a few hundred miles in a stint yet deliver an involving and exciting driving experience.
Now, there's a new one and it's the first to have been developed by the in-house performance car arm AMG. It has a boatload of new features to check out, so we've been pushing and prodding to see what this new SL offers.
What's new?
>
There's very little that could tie the new SL to its predecessor. This is a thorough and extensive change, with a brand-new chassis underpinning a car which has a number of fresh engine choices. You might notice that the SL has a fabric roof, too, replacing the folding metal version of the car it replaces.
Inside, we've got some of the latest tech that Mercedes has to offer, while two rear seats mean that you can take passengers out for the ride as well. The exterior design has been noticeably beefed-up, too, with a look closer to that of the AMG GT 4-Door.
What's under the bonnet?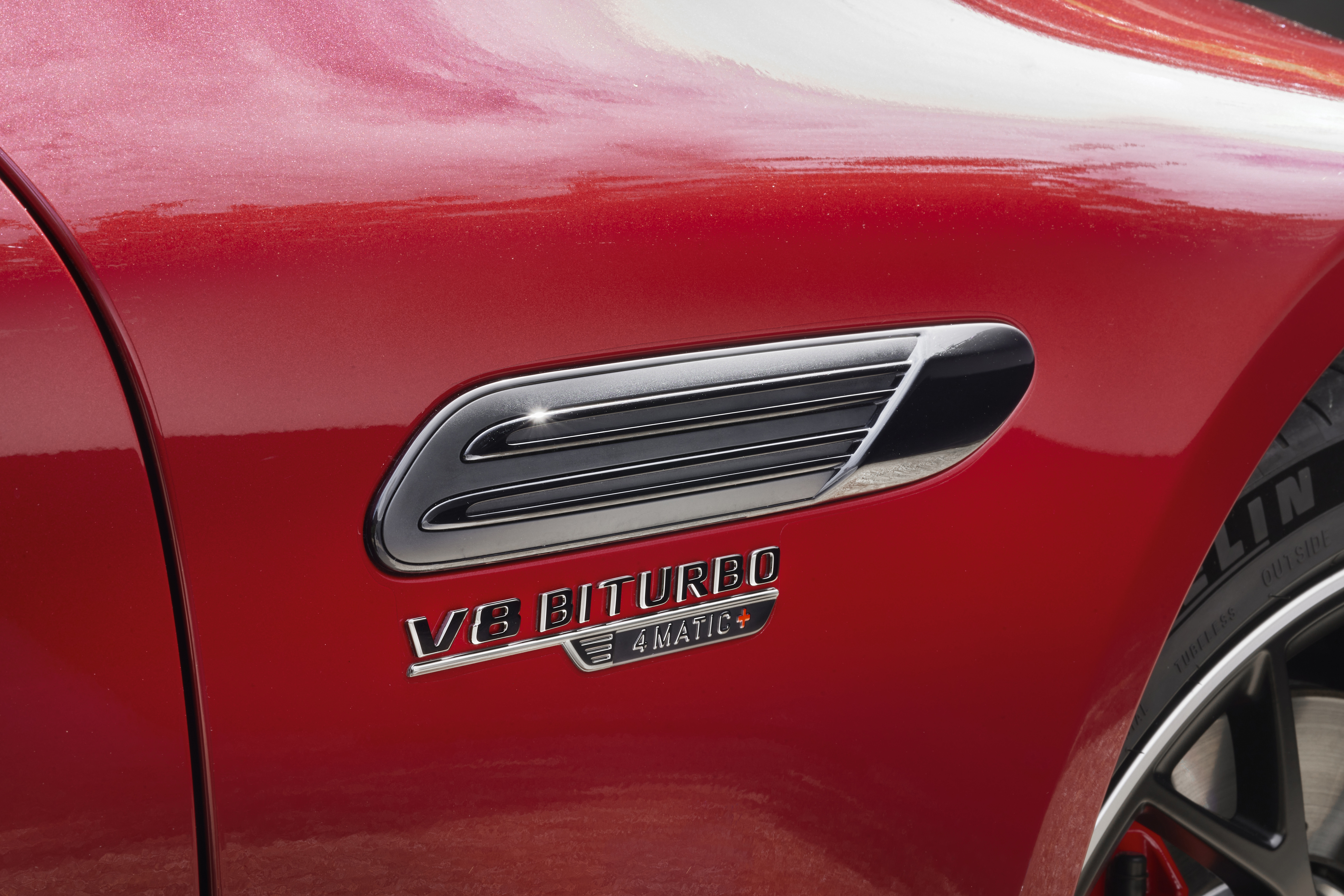 >
You can get the SL with a variety of engines – including an entry-level 2.0-litre turbocharged petrol – but the one we're driving today uses the classic Mercedes 4.0-litre twin-turbocharged V8 engine that we've seen in a number of its performance cars. Thanks to 469bhp and 700Nm of torque, the SL55 will manage 0-60mph in just 3.7 seconds and head on to a top speed of 183mph.
There's a nine-speed automatic gearbox, too, while 4Matic all-wheel-drive gives more assured handling in poor conditions. With such a hulking engine, 21.9mpg combined is to be expected – though it'll drop considerably during sportier driving.
What's it like to drive?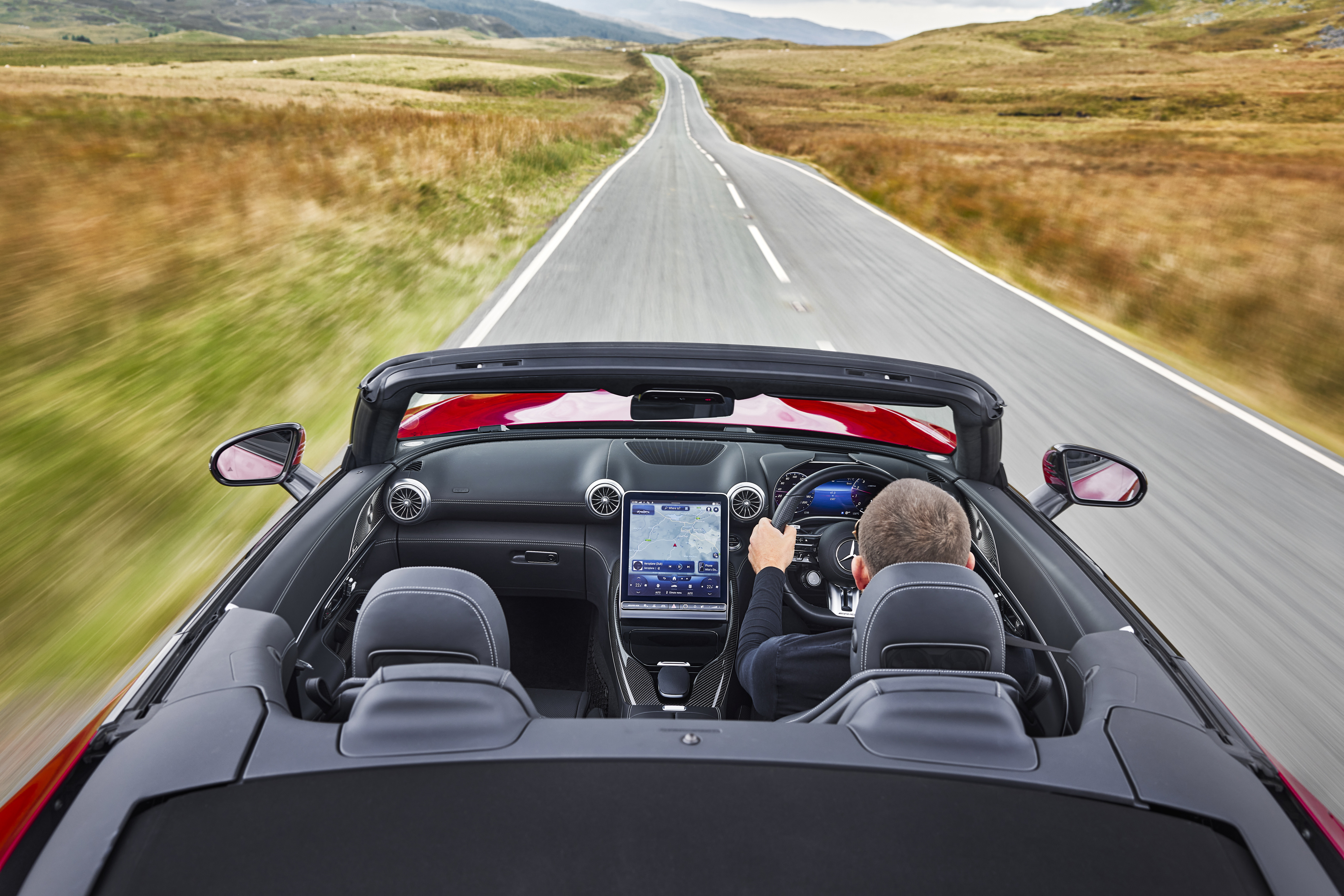 >
The SL isn't shy and retiring when you start it up, with a deep rumble coming from the exhaust when it kicks into life. Moving off, the SL's long bonnet makes itself immediately known and it takes a little bit of getting used to initially. The seats are comfortable, too, and there are heat blowers in the seatbacks for when it's chilly with the roof down.
It's relatively comfortable on a cruise, too, though low-speed potholes do tend to unsettle it. However, throw a little extra pace at the SL and it's obvious that this car has been seriously uprated over its predecessor. It's very sharp through the bends, with agile handling and some serious response coming from the engine. We found the most dynamic of the suspension settings too harsh for the UK's roads, mind you, with the car at its best in a softer, more free-flowing mode.
How does it look?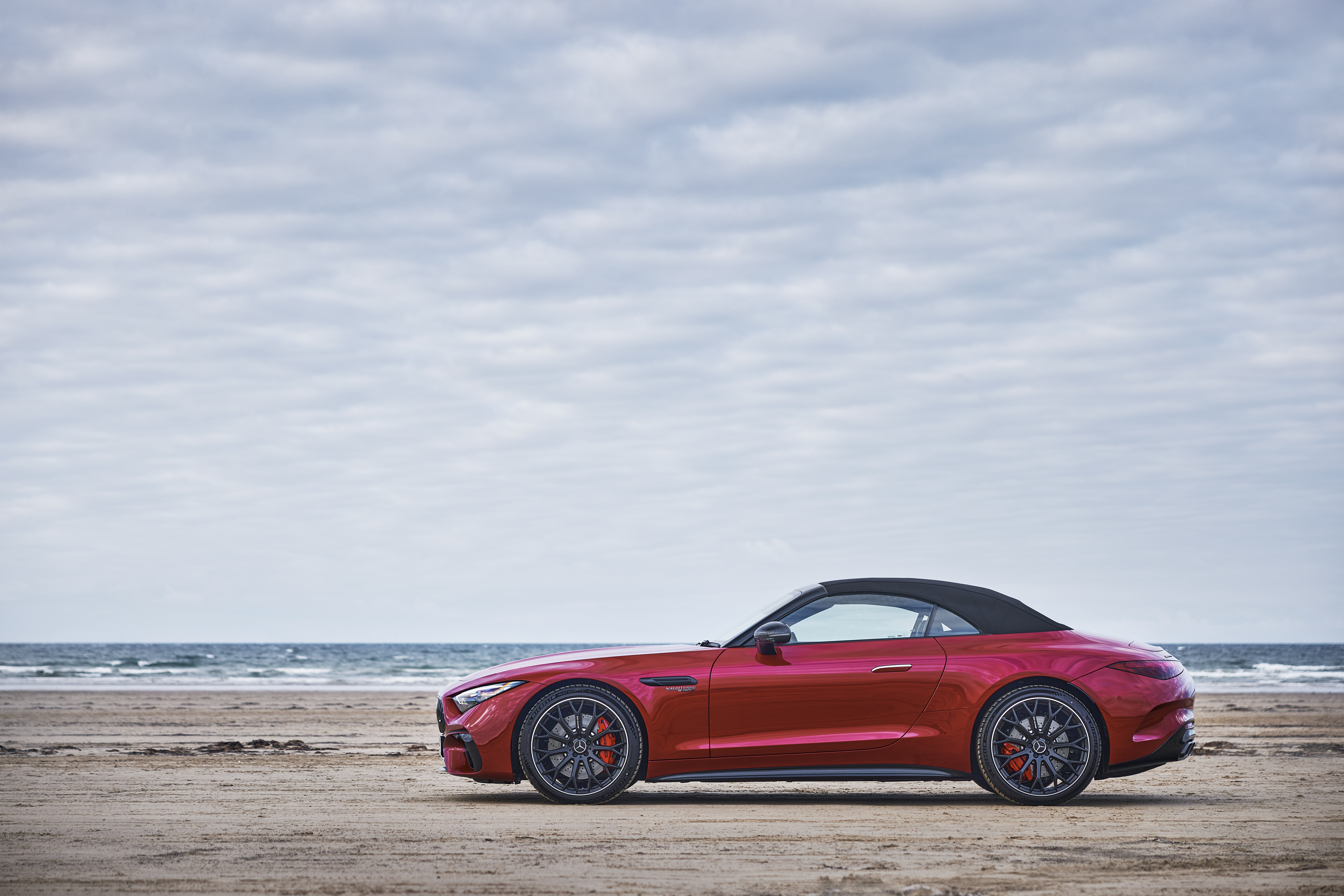 >
As we've already touched upon, the new SL is a far meaner-looking thing than before. The fitment of that fabric roof does give it more of an old-school feel, mind you, and it can be folded away in 15 seconds at speeds of up to 37mph, so you'll be able to get it closed should a sudden downpour occur.
It's a physically more imposing car than the one it was before, too, and definitely has a bit of muscle car to it thanks to that long bonnet and short rear overhang.
What's it like inside?
>
The SL comes with two rear seats as standard, but it's best to call them 'occasional'. With an adult driver up front, there's not a whole lot of legroom for whoever is sitting behind, though you could probably squeeze in for a short period of time. With the roof up, headroom is quite snug and, of course, with the roof down there are miles of it available.
The general fit-and-finish is good, plus the number of heated elements are welcome on a convertible during winter – heated seats, steering wheel and the aforementioned blowers really mean you can go roof-down more frequently. It's just a shame that the heated seats turn down automatically – as they do on all Mercedes cars – rather than sticking to the hottest setting you've picked. Boot space is a little on the small side at 213 litres and considerably less than you got in the old SL – so practicality has definitely taken a hit.
What's the spec like?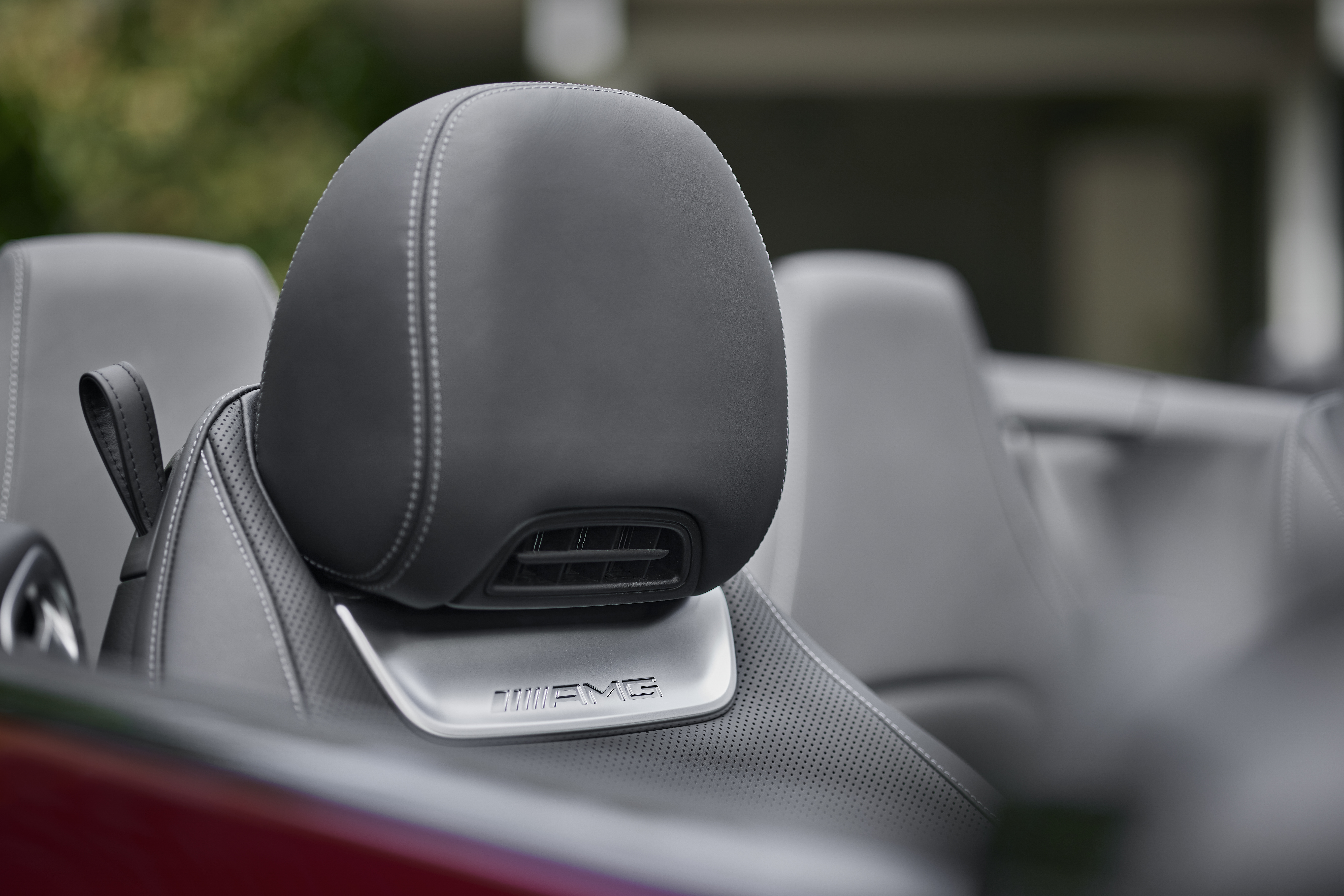 >
Prices for the Mercedes SL start from £108,030 for the entry-level SL43 with the 2.0-litre engine, with our Premium Plus-specification SL55 car coming in at £147,475, so it's hardly a budget option from the start. However, Mercedes does kit the SL out with plenty of standard equipment for that cost, including adaptive headlights, a head-up display and augmented reality satellite navigation.
There's also the latest Mercedes infotainment system which is centred around one large screen in the centre. We've seen it used on cars like the S- and C-Class and it's a lot more intuitive than some of its rivals. It's a nice touch that when using Apple CarPlay this smartphone mirroring system uses the whole space of the screen, too, rather than being situated in a small corner of it like on other setups.
Verdict
The new Mercedes SL feels like a far more direct proposition than it was before. Having AMG involved from the start has ensured that it steers, accelerates and feels more like a genuinely sporty car than ever before. The V8 engine continues to be full of character, too.
It's a shame that boot space has declined as it means that the SL isn't quite as usable on a daily basis as before, but in all other areas, this is a much sharper and more focused proposition.