In 2022 I was lucky enough to be able to drive all kinds of metal. From electric city cars through to Lamborghini SUVs and everything between.
But the car that probably impressed me the most last year? Well, it might come as a surprise, but it was a Honda Civic. And no, not a Type R version, but the 'regular' model, which arrived in its 11th generation, and marked 50 years of the Civic.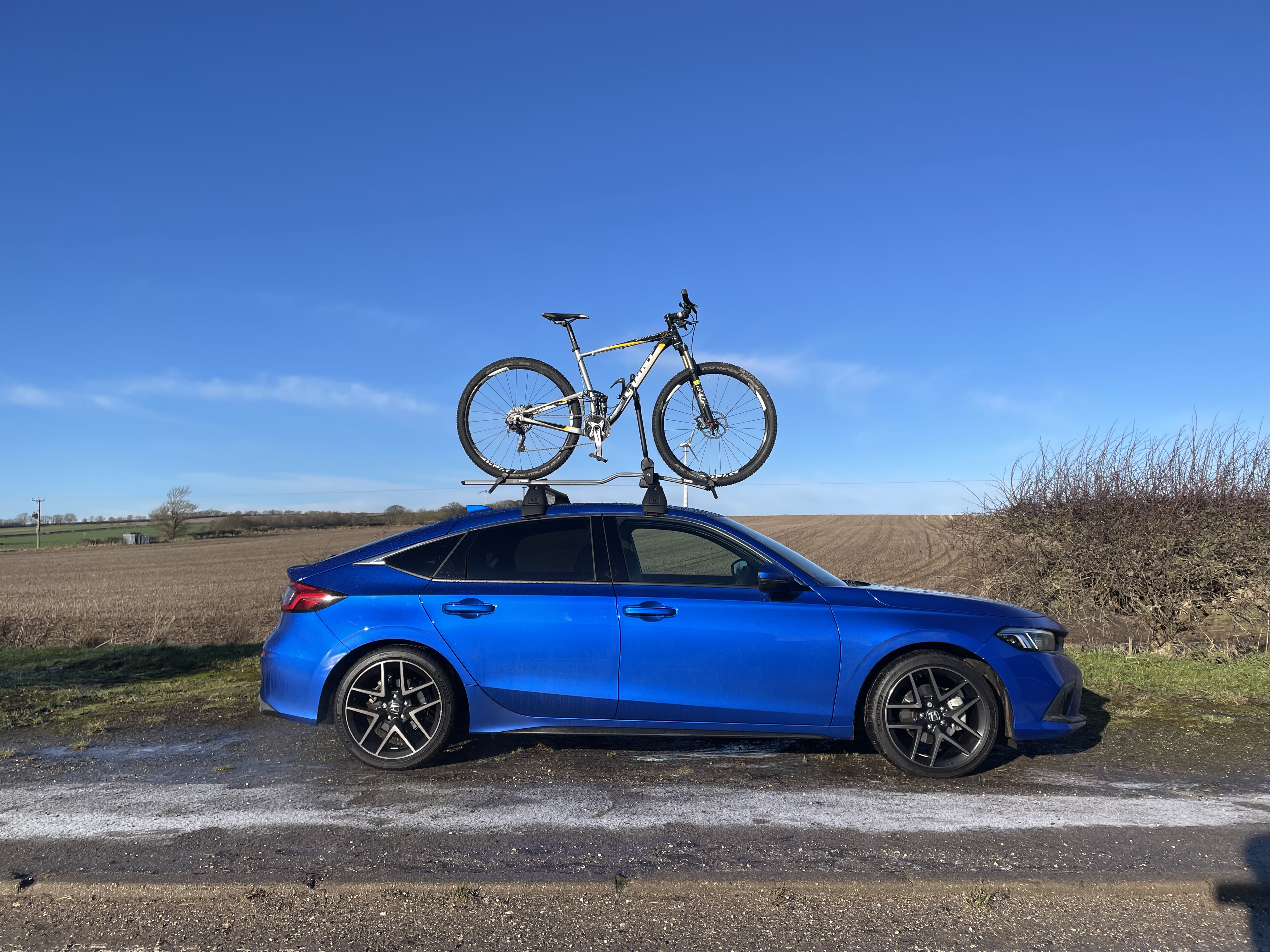 I liked it so much over brief stints that I asked Honda if I'd be able to run one over an extended period as a long-termer, and gleefully they agreed.
Outside of the Type R, the Civic comes with a single hybrid powertrain – a 2.0-litre petrol-electric setup that generates 181bhp. For the bulk of the time the engine serves to power the electric motor, and there's no gearbox as such – helping to avoid the lag that is experienced with other hybrid models. Yes, we're looking at you, Toyota Corolla.
Acceleration is brisk, with 0-60mph being dispatched in 7.9 seconds, while Honda claims fuel economy figures of up to 60.1mpg, though it's docked at 56.5mpg in the case of our top-spec 'Advance' model.
This is the trim that gets all of the bells and whistles, and I'm loving the equipment on it so far. There's leather upholstery, a 12-speaker Bose sound system and heating for the seats and steering wheel that's proven a delight on the cold January mornings we've been experiencing. I'm a particular fan of the full-length panoramic glass sunroof that floods the cabin with light, though admittedly it's been so cold that it's remained close for the majority of the time.
'My' car is also painted in what I think is my favourite colour that Honda offers on the Civic – Premium Crystal Blue. Given the car was delivered in the height of winter, it arrived dirty and even though I'm yet to see it clean, it must be said what a stunning shade it is, especially when caught in the sun or a bright car park light at night, for example.
The Civic is so well equipped that Honda doesn't really need to offer any optional extras, though RF22 TGY does have a few accessories fitted. As part of a New Years resolution to try and shed some weight, I asked Honda if I could have a bike rack fitted to the roof. I'll admit I partially did this because I wasn't sure if a bike would be able to fit into the Civic's boot, owing to its coupe-like styling, but I also reckon a bike rack makes any car look much cooler. Just my opinion, of course!
A tow bar is also fitted, though I can't say I'll likely be testing this out – it's only able to tow 750kg anyway, which isn't a huge amount of use.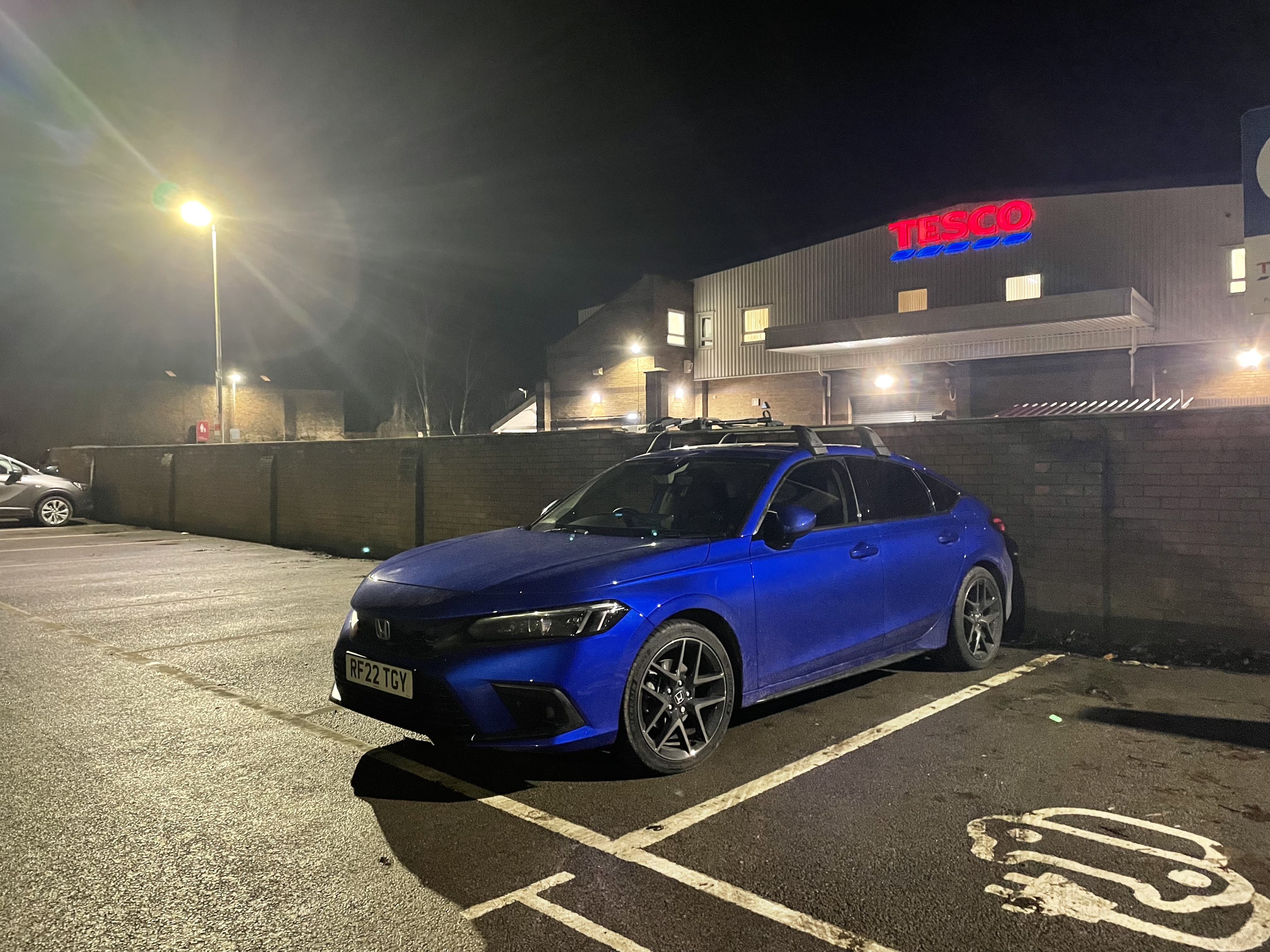 My new Civic has already lived a life before me, having covered 10,000 miles, so there's most certainly no 'running in' that I need to worry about.
I've only had it for a few weeks but I'm already massively taken with it. Having run an EV for seven months previously, a hybrid that requires no plugging in over longer journeys is most certainly welcome, albeit having to visit petrol stations again has been a slight shock to the system.
I've also found the Civic needing to frequent petrol stations more than I expected, but not because of its inefficiency (far from it. it's been averaging 45mpg locally and 50+mpg on longer runs) but rather a quite small 40-litre fuel tank. That results in a range of around 350 miles to 400 miles.
I've already covered around 1,000 miles in the first few weeks of the Civic, and I can't wait to clock up more miles in my time with it.