What is it?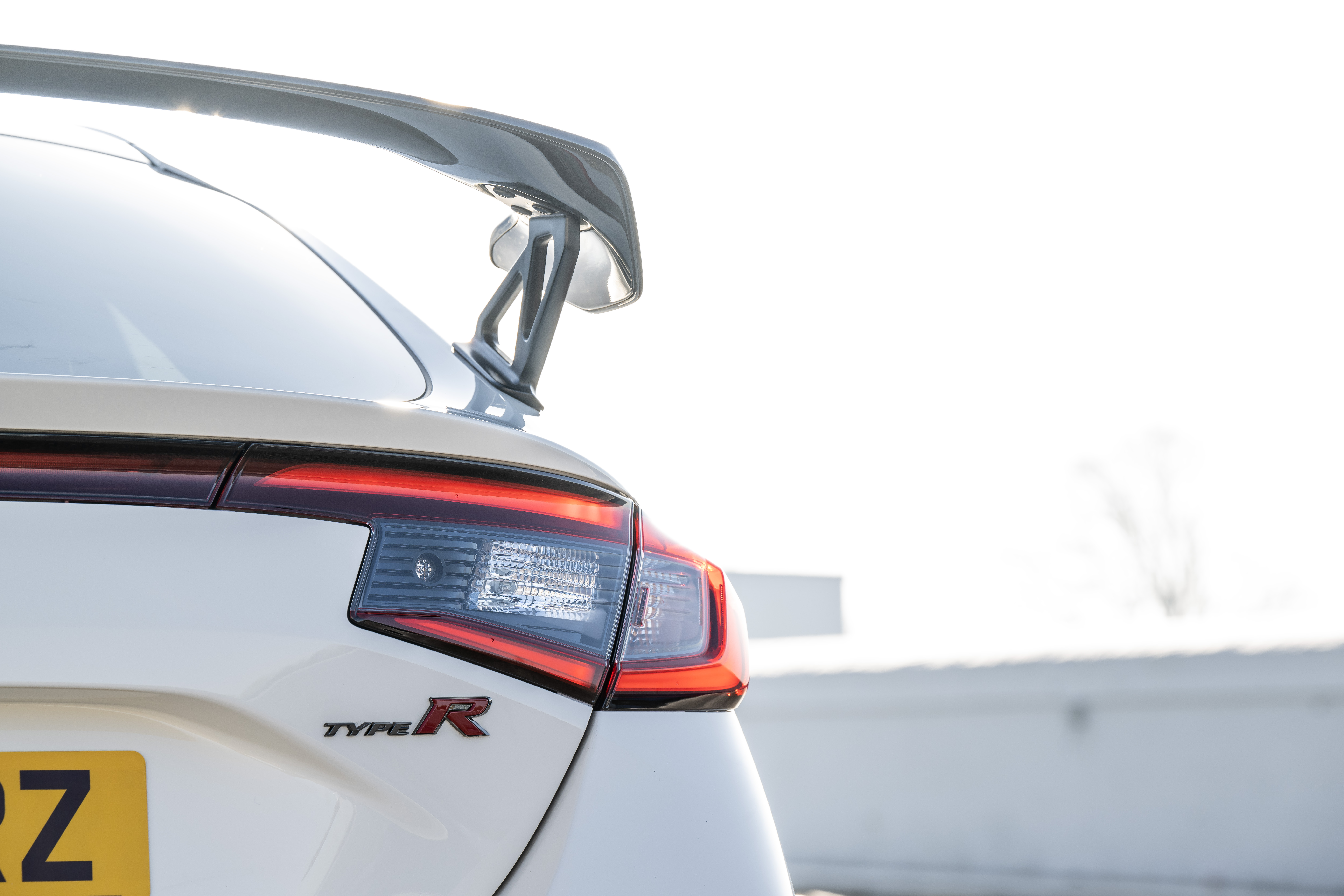 >
When it comes to performance hot hatches, the Civic Type R has always been one of the key players. Over the years it has become faster and more hardcore but has always had strong backing from generations of much-loved models. The previous-generation car, in particular, was heralded as one of the best of its kind.
But things, eventually, have to move on, which brings us to this brand-new Type R. It aims to be more direct and powerful but still just as engaging. But does it deliver? That's what we've been finding out.
What's new?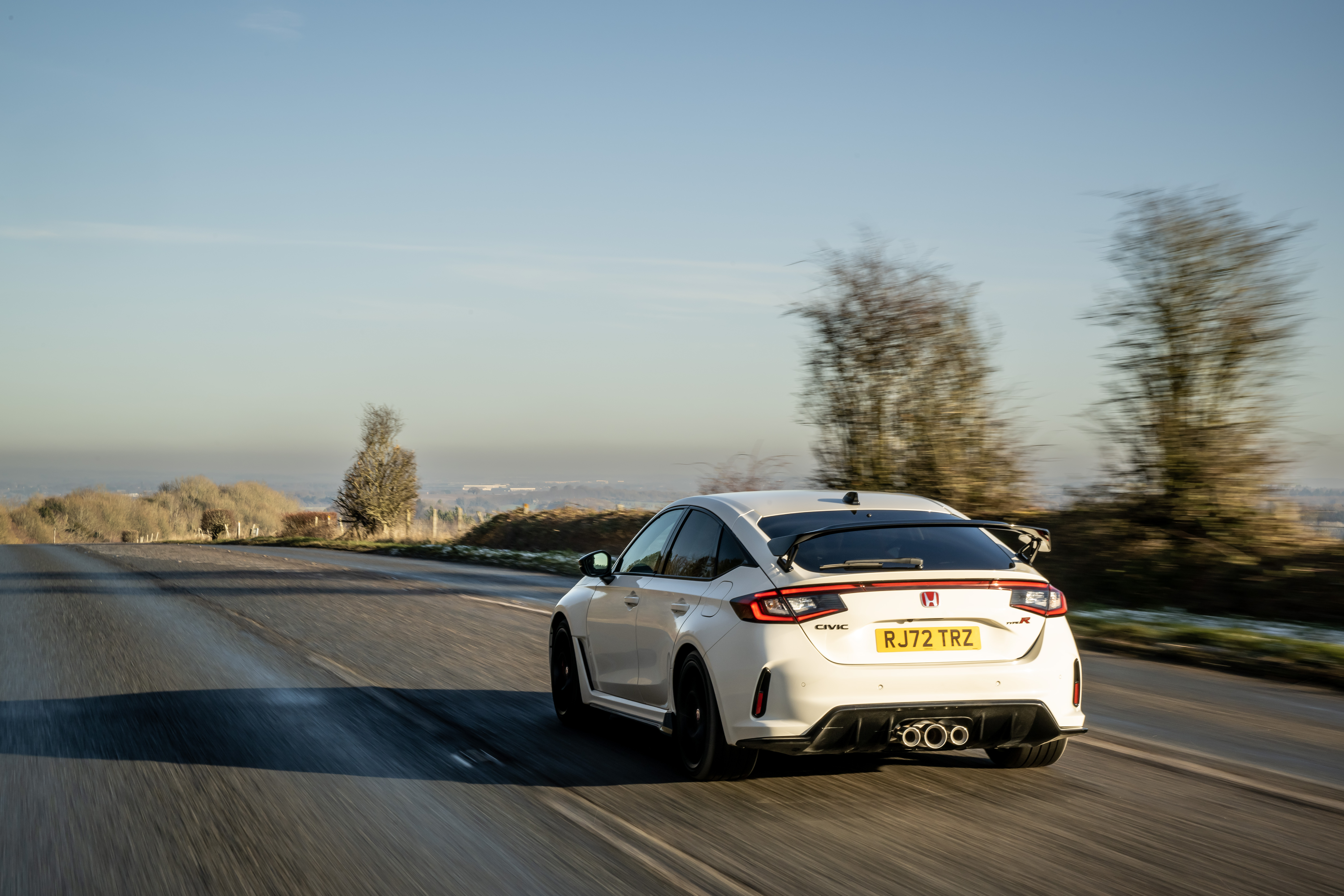 >
Externally, things are a little more grown-up. The previous Type R was well known for its outlandish styling but things have been toned down for this new generation. Inside, we've got a significant upgrade in the form of a new infotainment system – brought straight from the standard Civic – which replaces the severely outdated setup in the older car.
It's a little bit larger in all respects, too, while the inclusion of a new 'Individual' mode – which allows you to pick and choose between the Type R's various settings for aspects such as steering and suspension – is something that was lacking from the car it replaces. It's a great new addition.
What's under the bonnet?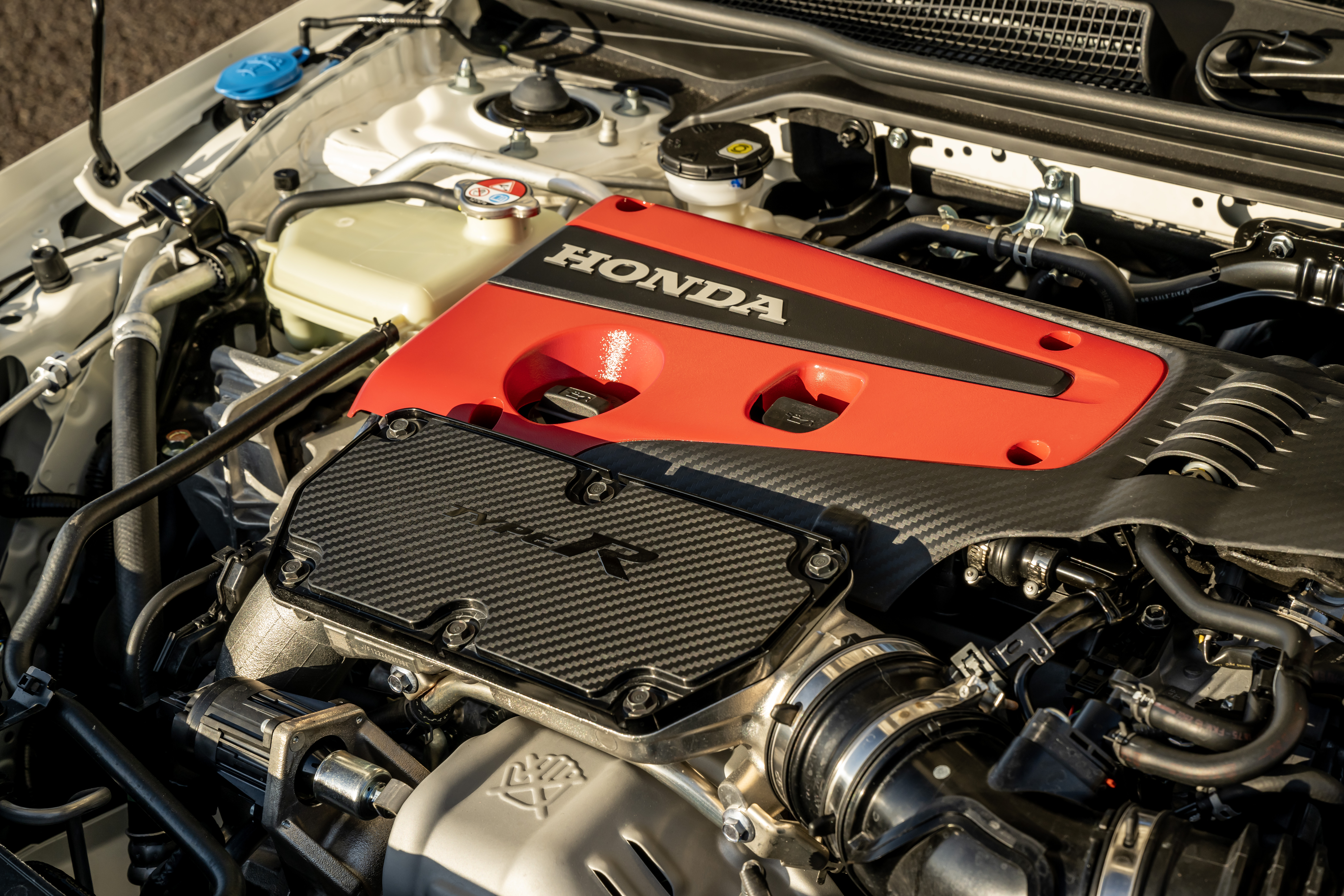 >
You might think that with the rest of Honda's line-up going hybrid-only, that the beating heart of the Type R would be some sort of electrically-assisted set-up. But no. Instead, we've got a 2.0-litre turbocharged petrol engine, which is likely to be the last time that we'll see such a unit in a Civic. It's got 325bhp to offer up – slightly more than the 316bhp you got in the old car – as well as 420Nm of torque.
The result? Well, zero to 60mph is dealt with in 5.2 seconds and flat-out the Civic Type R will carry on to 170mph – they're both ever-so-slight increases over its predecessor, which could manage 5.6 seconds and 169mph respectively. In terms of efficiency, we're looking at 34.4mpg combined and CO2 emissions of 186g/km.
What's it like to drive?
Slot yourself into the nicely bolstered bucket seats and it's not hard to feel at home as soon as you're in the Civic Type R. The controls are well placed, too, with the delightfully tactile metal gearshifter for the six-speed manual gearbox being a particular highlight. On the move, and in its softest setting, the Type R handles the UK's roads well while the engine now feels even keener to get going than before. It scythes through corners with real verve, while that brilliantly weighted gearshift brings a whole lot of engagement.
Refinement isn't the best, mind you, with large levels of both road and wind noise experienced from inside the cabin – though it is a performance hot hatch, after all. The front end of the car feels sharper and more direct than before, too, while switching into more aggressive driver modes enhances this. For road driving, however, we'd resist going for the sportier damping setting as it just makes the Type R too uncomfortable and unforgiving. Larger potholes continue to thump through to the cabin, just as they did on the previous car, too.
How does it look?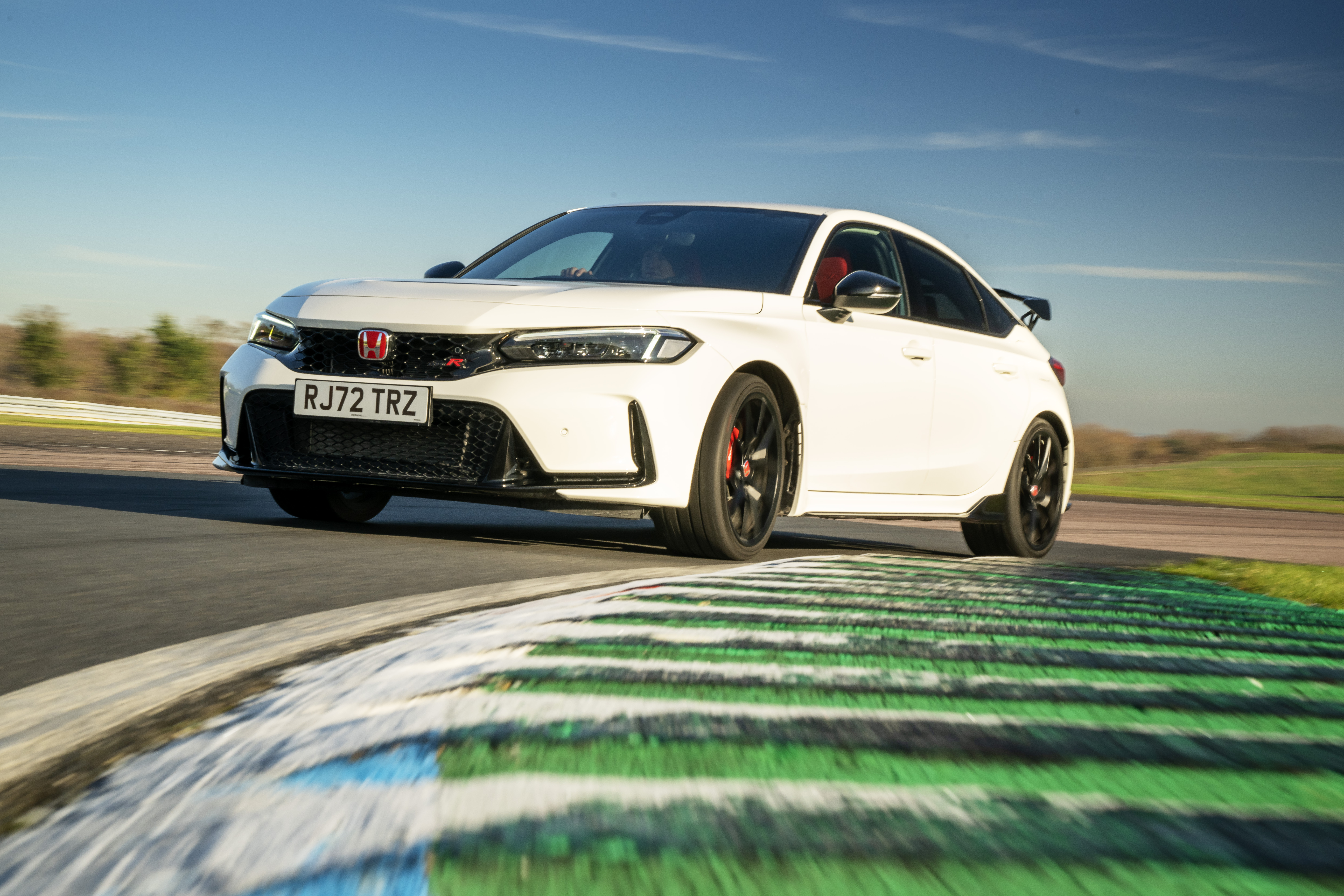 >
As we've already touched upon, the new Civic Type R feels a little more grown-up than before. It's more rounded and does away with the slightly angular, computer-game-esque design of its predecessor and, to us, it's likely that it'll make it appeal to a much wider audience. There's still a very large rear wing, mind you, but it's a wholeheartedly toned-down affair.
But that's not to say it's boring, mind you. The blocky front end has some serious presence, while the rear's trio of exhaust outlets has some proper drama to it. It's quite colour dependant, however, with white exterior body shades slightly washing out the car's looks – to our eyes at least.
What's it like inside?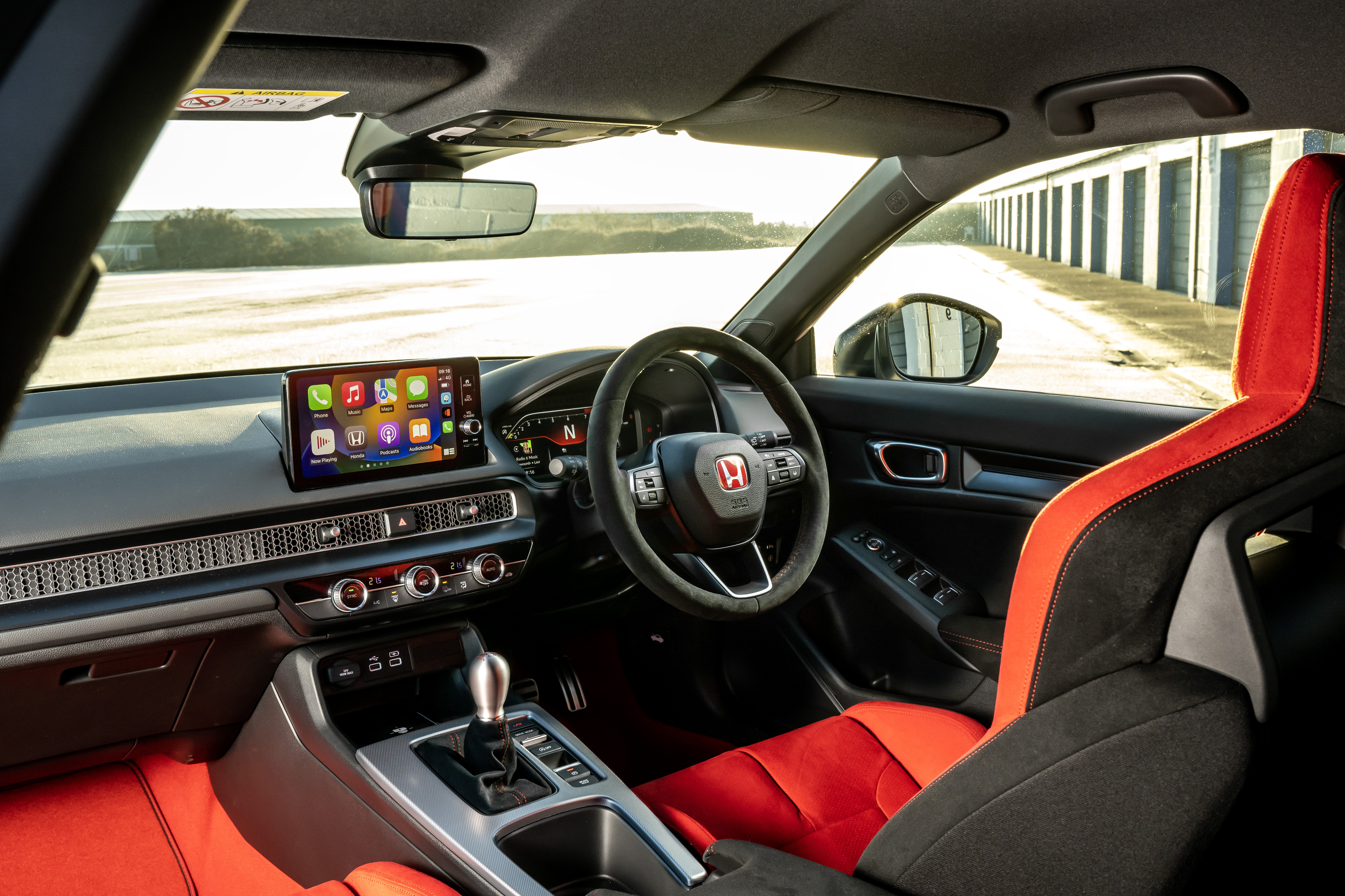 >
The fundamentals of the Type R's interior remain unchanged. The bucket seats are still wonderfully supportive, while the controls have been well-judged in their placement. The pedal spacing, for example, is spot-on. For us, it feels like you're sitting slightly higher up than before, however, and it'd be nice to be able to go a little lower.
There's a decent amount of space in the rear, too, while the 410-litre boot is bang-on in terms of both capacity and shape.
What's the spec like?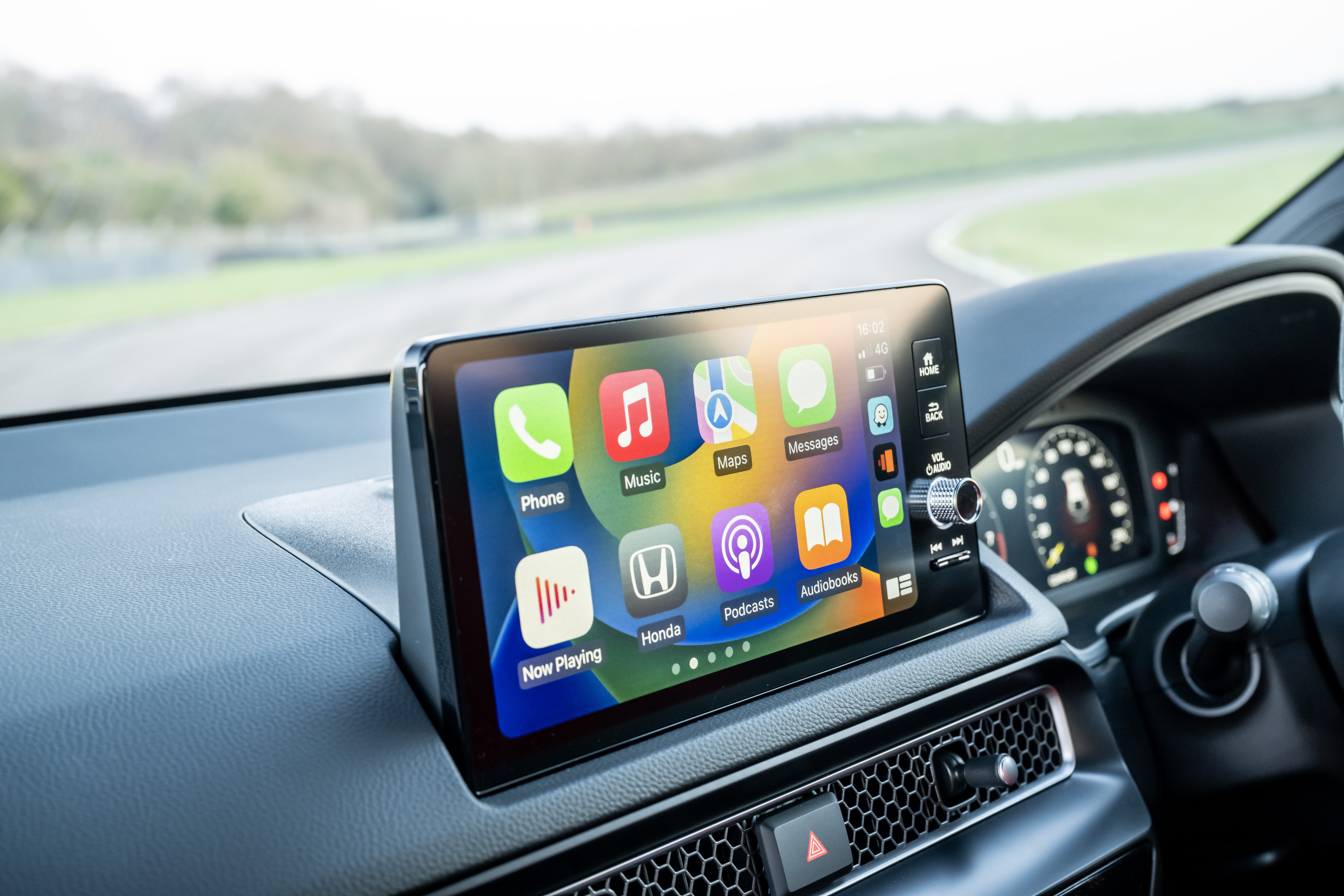 >
Prices for the Civic Type R will start from £46,995, which is quite a sizeable price tag for a car of this type and a significant uplift on the £32,820 required for the previous-generation model. That said, it's pleasing that Honda has really upgraded the infotainment system which was such a sore spot on the old model. It's got Apple CarPlay included too, as well as a new 'Performance Monitor' which can relay all sorts of key information such as water temperature and even brake pressure back to the driver.
You've also got Honda's full Sensing suite of driver safety aids, which includes features such as forward collision alert, cross traffic monitor and a road departure mitigation system.
Verdict
The new Civic Type R is, yet again, a hit. It's staggeringly good to drive, with levels of engagement that you just don't tend to get in this size of car. Now accompanied by much-improved technology, it's a hot hatch that could quite easily transform the dreariest, most mundane drives into something really special.
That price is a real hitch, mind you, as it does push the Civic Type R out of the more attainable realms that it once occupied. However, for those happy to stump up the extra outlay, this is one seriously impressive hot hatch.