What are they?
In the age of the crossover, compact SUV and four-door coupes, there's somehow still a space for the humble estate car. However, what if you want a little extra off-road capability with your 'wagon? Then step this way; our trio here cater for exactly that market.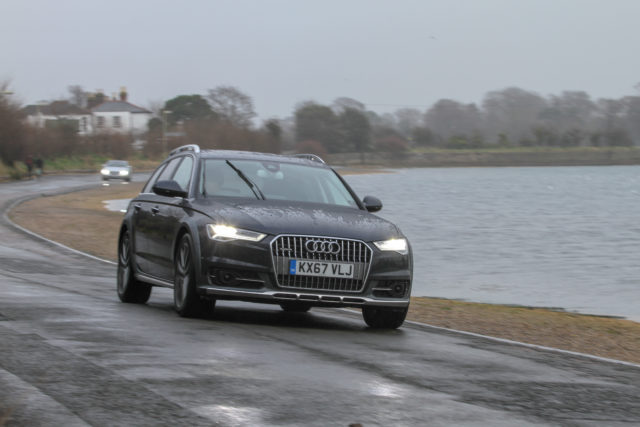 What's new?
In terms of 'newness', the Audi falls short here. The latest-generation A6 has just been announced, making this version here the 'old' car. But that's no reason to discount it – it still has one of the very best interiors around in terms of quality, while the exterior design is still pretty today.
The E-Class All-Terrain, meanwhile, is one of the latest 'off-road' estates to hit the market. Based on the regular – and excellent – E-Class Estate, this All Terrain has one of the best-looking cabins available today as well one of the largest boots in the segment – dog owners rejoice!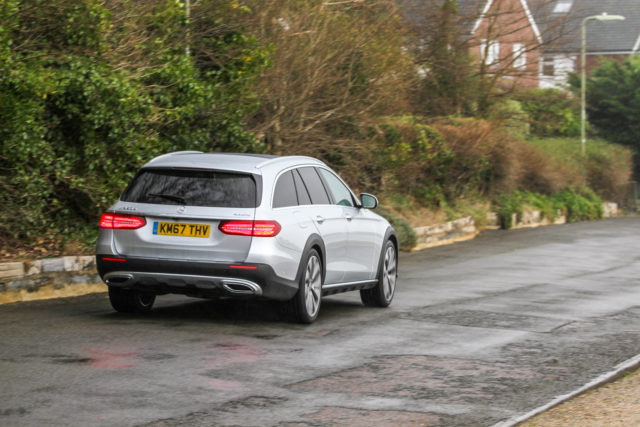 What's under the bonnet?
Given that these three rather heavy estates are designed to cope – and return the best economy – across longer journeys and motorway schleps, it's understandable that they all feature large, turbocharged diesel engines.
The Audi features a 3.0-litre twin-turbocharged V6 diesel with an impressive 320bhp delivered to all four wheels with its famed Quattro system. It can hit 60mph in under five-and-a-half seconds, before topping out at 155mph. Despite this, Audi claims that it'll return 43.5mpg on the combined cycle, while emitting 172g/km CO2.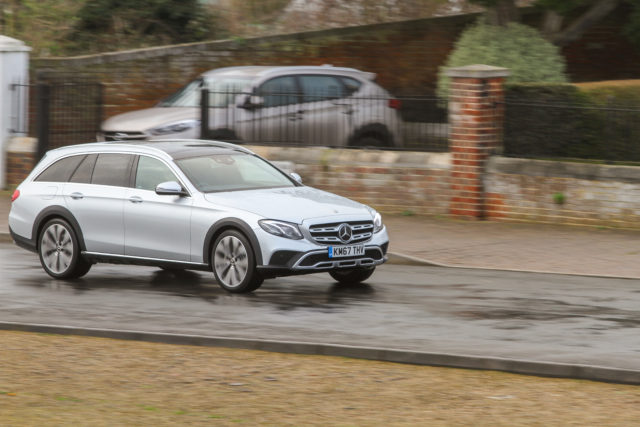 What are they like to drive?
As large, relatively heavy estate cars, you wouldn't expect this trio to offer the last word in exciting driving experiences. Thanks to a raised ride height and more off-road orientated suspension setups, they aren't as involving to drive as their tarmac-focused counterparts, but still offer a decent enough drive to keep the average motorists happy.
The Volvo's steering is well weighted and makes piloting the car – given its size – particularly hassle-free, even through tighter urban environments. The Mercedes', in contrast, is the most agile-feeling of the three, with sharper handling giving you better opportunities to exploit the car in faster bends. The Audi's handling is – surprise surprise – typical of the German marque. There's little life to be found coming through the wheel, but it's dependable and the whole car feels planted through corners, as well as at higher speeds on the motorway.
How do they look?
All three here are chunkier takes on the regular estate cars they are based on and, in our eyes at least, really do look quite good. The Audi's exterior design may be the oldest here – with a new version of the regular A6 due to arrive this year – but it still looks sleek. Its dimensions have always proved popular, and somehow it always manages to just look 'right' when out on the road.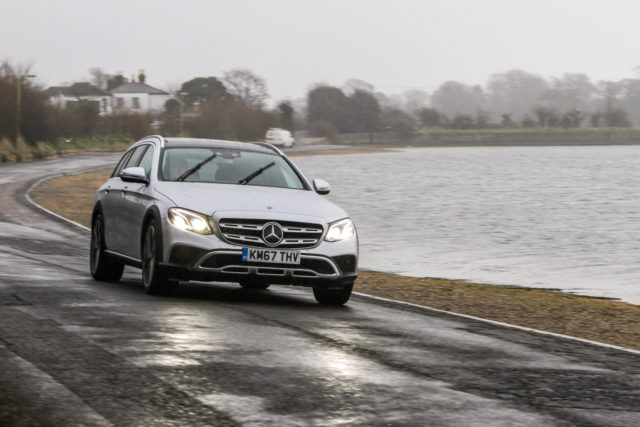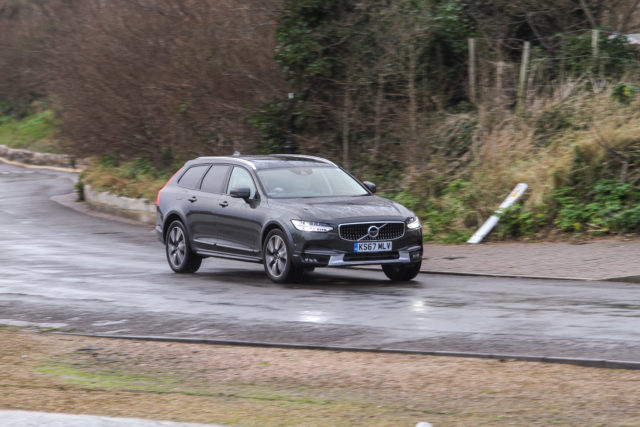 What's are they like inside?
Of the three, the Volvo takes the crown here. It's not that the other two are sub-standard – far from it – it's just that the V90 Cross Country's cabin feels the highest-quality, despite being the most minimalistic here. The large iPad-style central infotainment dominates the car's forward area, and it's accompanied by useful amount of manual controls.
The Audi's interior architecture may be quite old compared to the other two here, but that doesn't stop it from being a pleasant place to be. The infotainment screen is small by modern standards, and the satellite navigation isn't that detailed, but it's simple to navigate and it's a breeze to connect your phone too. The seats are brilliantly supportive, while the driving position remains spot-on.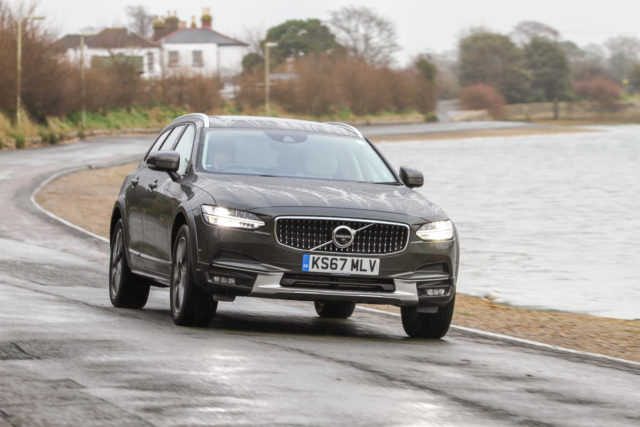 What's the spec like?
As you'd expect with large, premium estate cars, there's a lot of equipment included as standard. The A6 benefits from Audi's full sound system, as well as DAB digital radio and full Bluetooth smartphone connectivity. Four-zone air conditioning is fitted as standard too. In terms of exterior touches, the Allroad gets full xenon headlights with LED daytime running lights, as well as 18-inch alloy wheels.
As standard, the Cross Country has the previously mentioned central infotainment screen, along with an eight-inch TFT driver's information screen. Leather-faced seats are fitted, which are heated in the front too – a real plus when the weather turns colder. In addition, you get 17-inch alloy wheels and Pilot Assist – Volvo's semi-autonomous driving assistance system.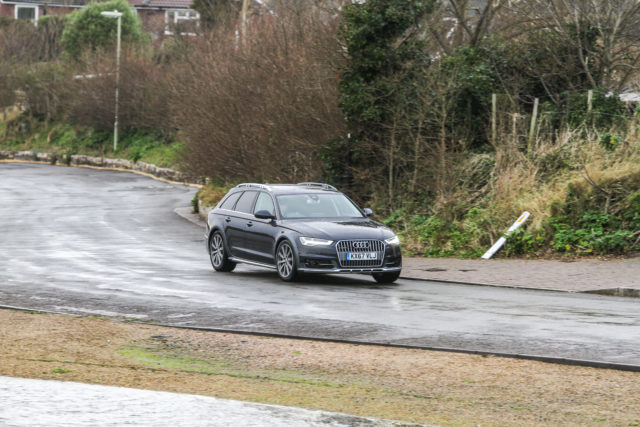 Verdict
It's certainly apparent that all three cars here are excellent at providing just a little more security in poor conditions than classic estates, while also delivering a cosseting and comfortable driving experience – but which comes out on top?
As capable and solidly built as the Audi is, it can't come up trumps here. We've already seen the new A6, and that's no bad thing – the A6 Allroad just feels a little outdated in this company, particularly in terms of in-car technology and general cabin design.
We then come to the Mercedes and Volvo. Both are impressive to look at both inside and out, and both deal with the rougher stuff better than there more road-focused counterparts. But we've got to give this victory to the E-Class. It's just a little keener to drive, has a bit more presence out on the road and features one of the most beautiful infotainment screen setups we've seen. The Volvo's no bad choice, mind you – it just gets edged by the E-Class ever so slightly.