Driving holidays have surged in popularity since Covid restrictions were lifted, with motorists looking to adventure overseas with their own car, while also avoiding soaring hire car costs and having the familiarity of your own vehicle.
When it comes to an 'overseas' road trip, it's likely getting the ferry or channel tunnel to France that springs to mind first. But there's another stretch of water that you can cross to get 'abroad'; the Irish Sea to Dublin.
If you like a bit of familiarity – which driving on the same side of the road often provides – it's well worth a look. Ferries to Dublin run from Liverpool, Holyhead and Douglas on the Isle of Man, with one-way tickets starting from £129.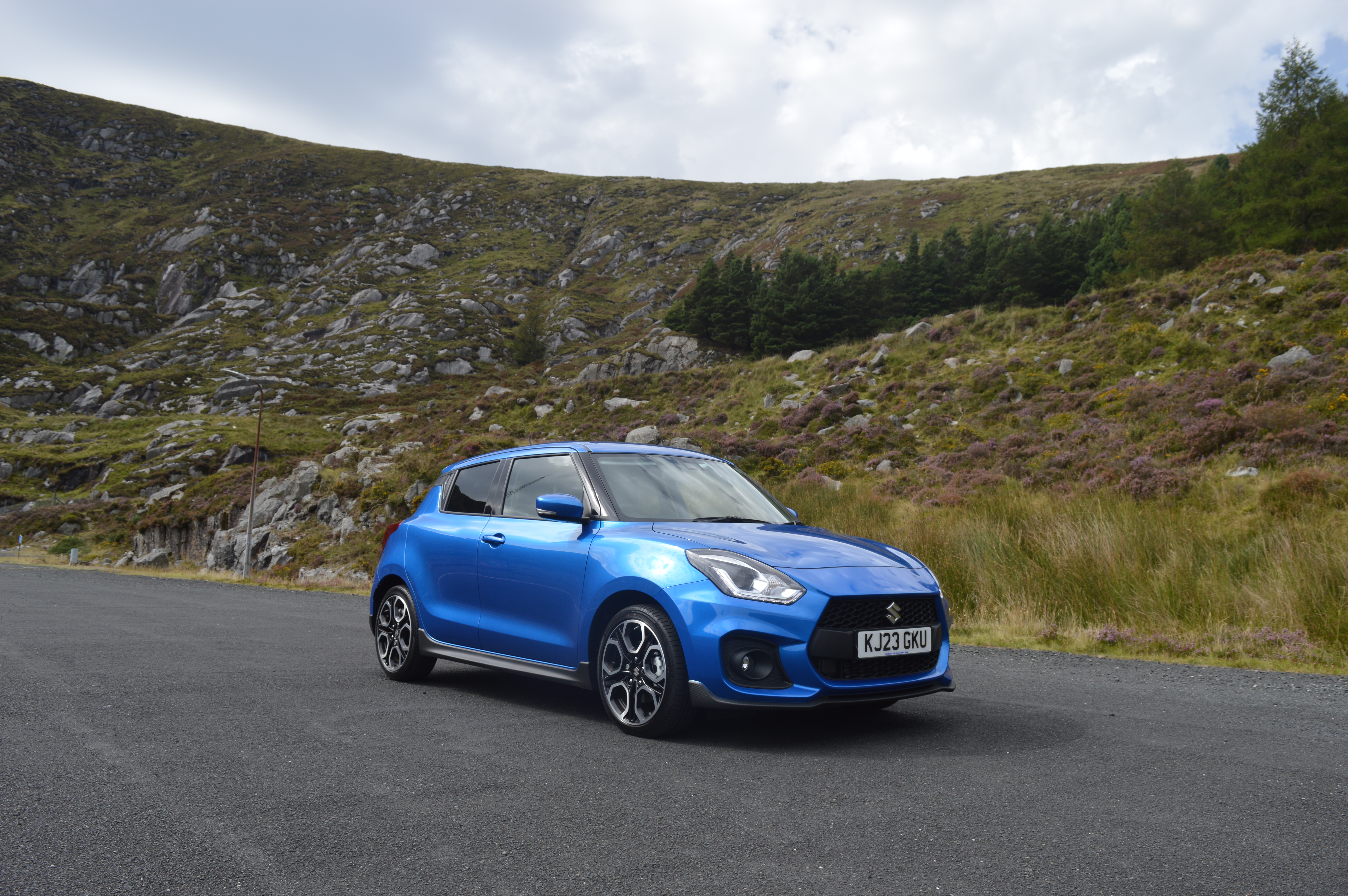 Our journey is a little easier, however, as our road trip cars are waiting for us at Dublin Airport. The choice of wheels? A Suzuki Sport. It's one of those sometimes-forgotten hot hatches but it has gained prominence by now being the UK's cheapest hot hatch. Volkswagen's little Up! GTI is no more, while Ford recently ended production of its Fiesta too.
With a Mini Cooper S starting from £26,490 and a Volkswagen Polo GTI coming in at £28,905, by default, the Swift's price of £23,670 is a new hot hatch bargain. We're not saying that's cheap by any means but by fun new car standards, it's not bad at all.
Though you could stop for a few nights in the Guinness capital of the world that is Dublin (it goes without saying but don't combine this with driving!), we get cracking as soon as we've left the airport in pursuit of some more enjoyable roads.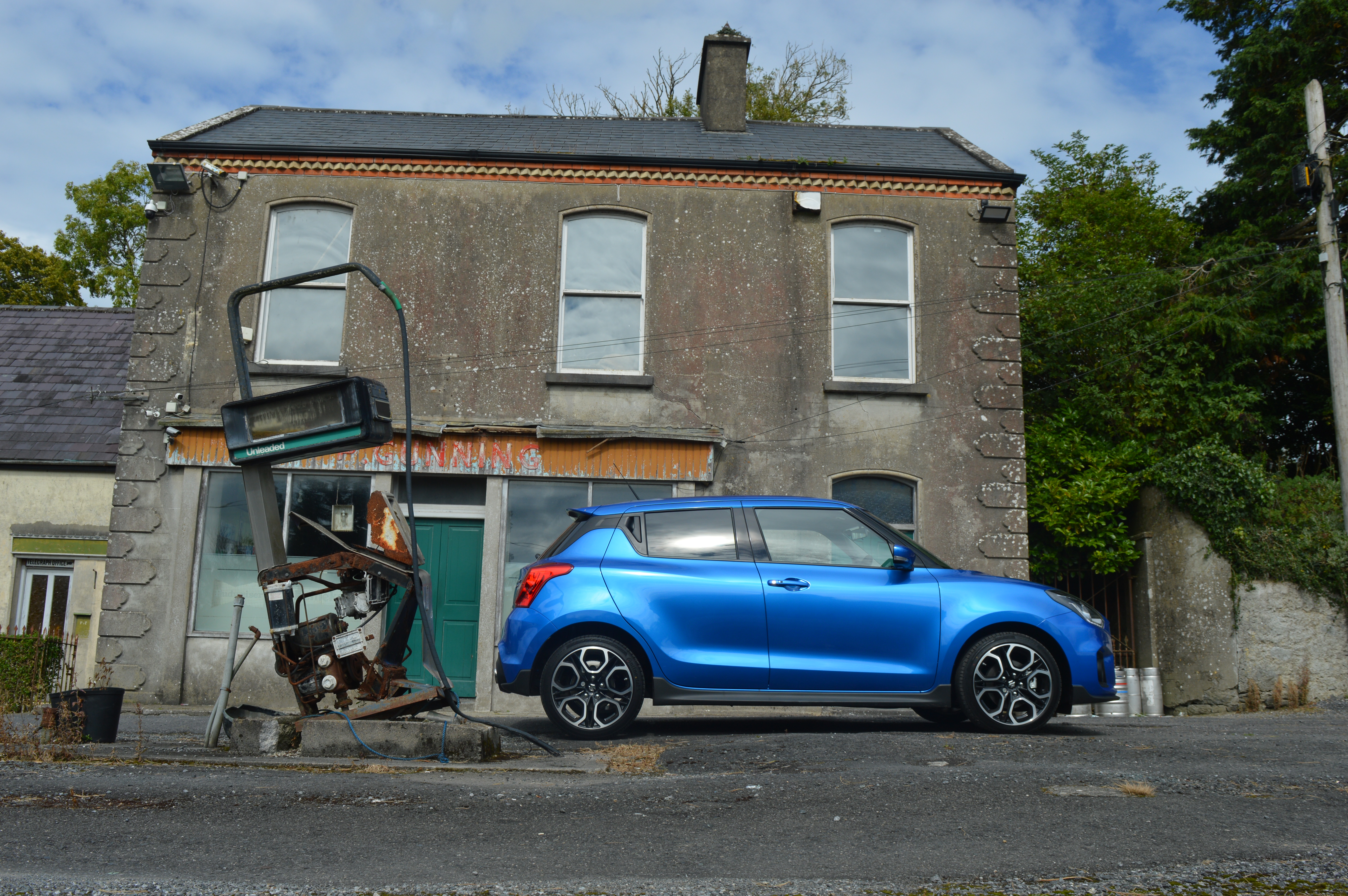 The roads to get out of Dublin heading south are a bit tedious, though they are incredibly quiet – near-empty roads are a theme throughout our trip. We stay on the M50 motorway for a bit before leaving the traffic behind at Knocklyon on the outskirts of Dublin.
From here, things get better and better as we head into the incredible Wicklow National Park and the Swift Sport comes into its element. On narrow roads like this, you wouldn't want anything much bigger, as while two Swifts can pass each other comfortably, two Porsches would be another matter.
In recent years Suzuki has lightly electrified its Swift Sport with a new mild-hybrid system. It still uses the same 1.4-litre petrol turbocharged petrol engine, but is now joined by a 48-volt electrical system. On paper, the 127bhp figure doesn't seem a lot, but at just over a tonne, this is a very light car by modern standards.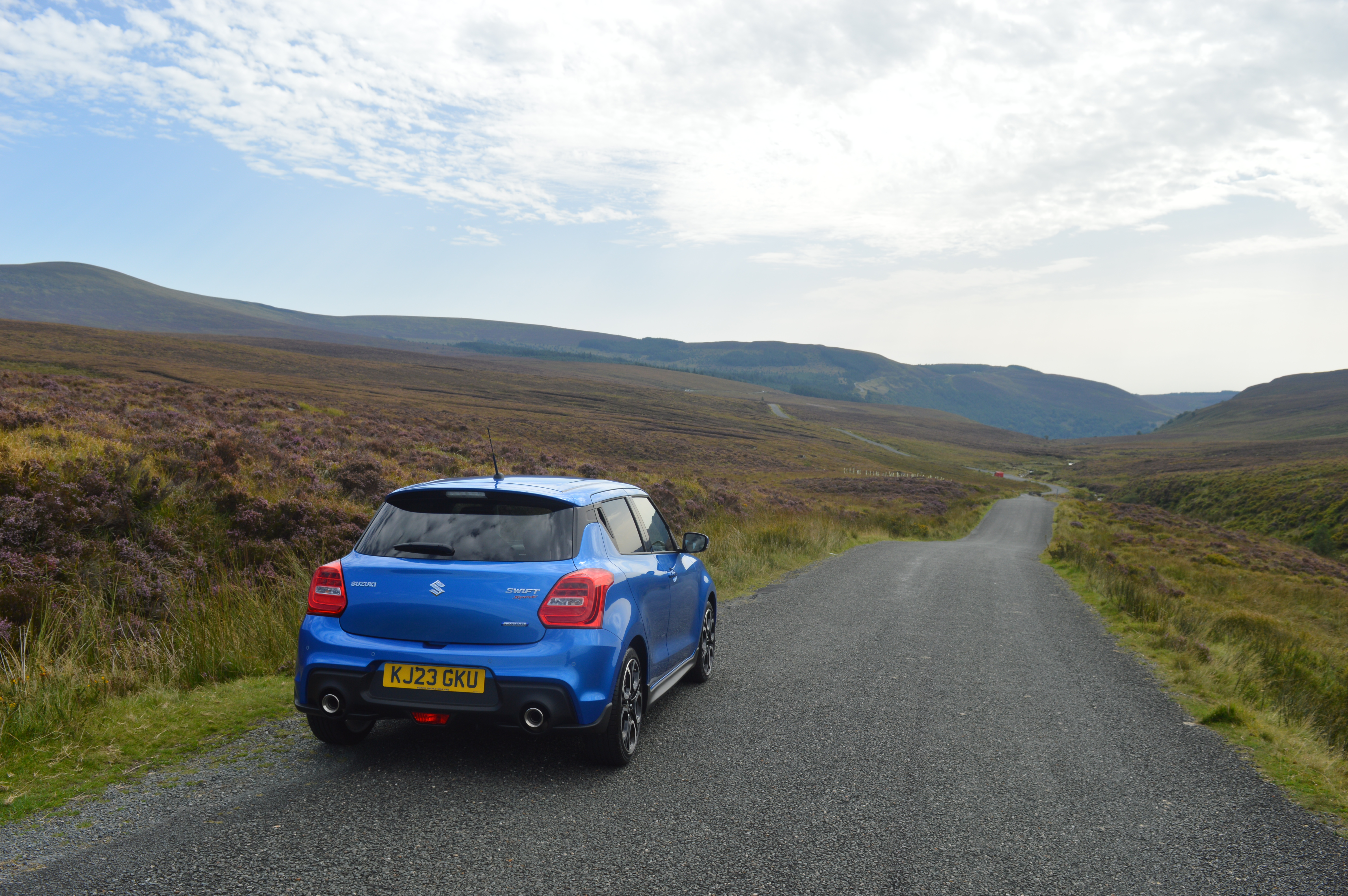 Suzuki claims nine seconds to 60mph but it feels significantly quicker than that, and it's a perfect match for these kind of windy, bumpy roads where even if you had significantly more power, there isn't really the scope to use it.
The Swift Sport's clutch is very light and takes a little adjusting to, but the six-speed manual gearbox itself is very rewarding. It's a joy to use on the kind of ascents that make up the R115 that wiggles the way through these mountains. We're fortunate to do the trip on the recent spell of perfect weather where the full view and scenery can be really appreciated.
We pull over at the only significant layby across this entire road, just next to Glassamucky Mountain, and have the most incredible view into the valley. It's the ideal picnic stop, but conscious of the amount of driving left, we set off again. We join the back of a convoy of other Swift Sports from our group for the next leg, not intentionally. In a bright blue, yellow and red combination, we're bringing the Romanian flag to Ireland, and seeing these Swifts bobbing along is a joyous sight. Simple, pure, fun motoring.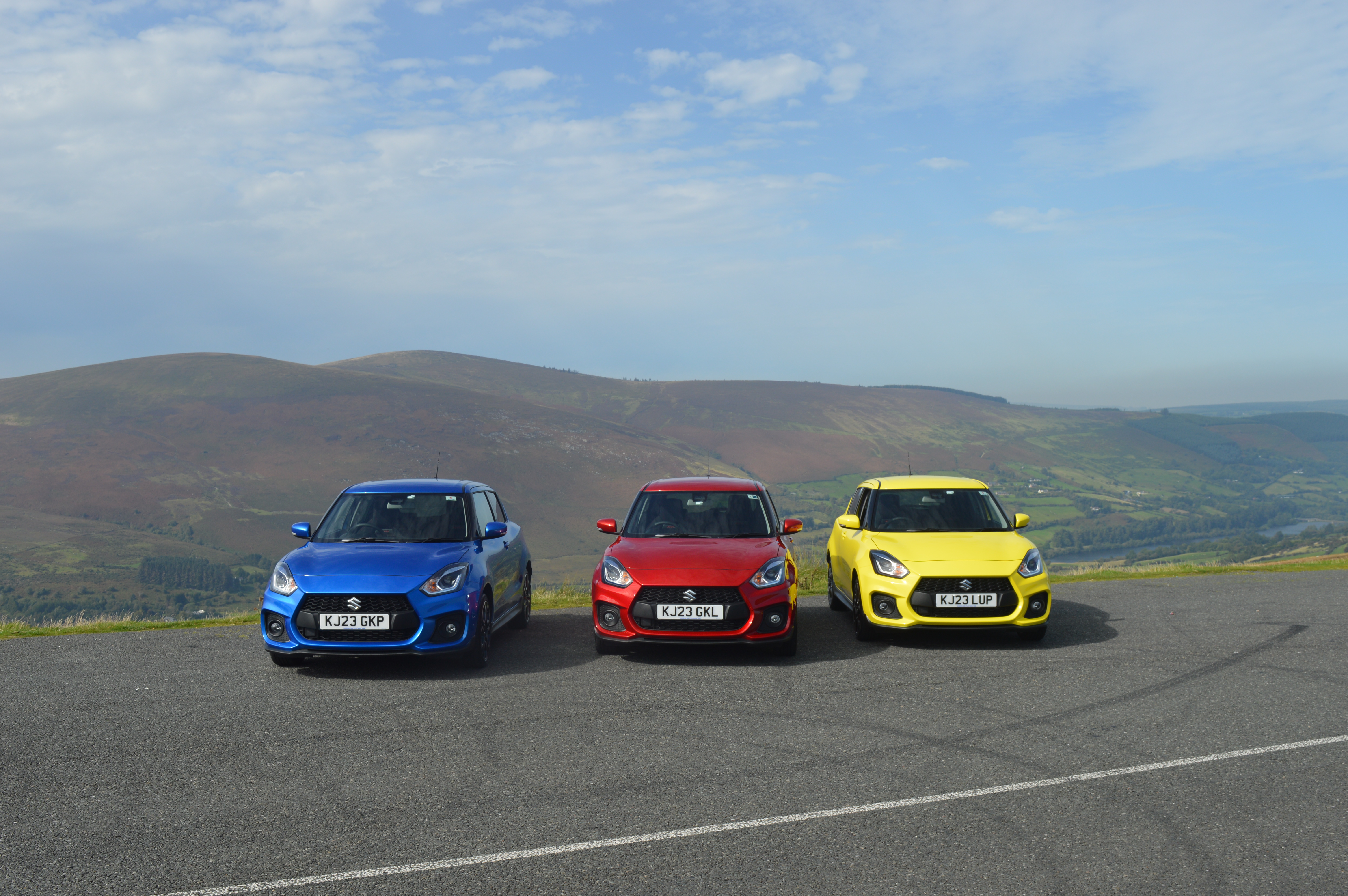 Using Google Maps, we spot that we're about to pass a loch, so we pull over leaving the rest to carry on to have an explore. It was worth the stop, as, known as Lough Bray, it's a fantastically clear piece of water surrounding the mountains. A place where you could sit for hours just admiring the nature.
But again, we relent and get back on the road for what is possibly the best road of the trip – around Sally Gap. It's a crossroads where you can go north back to Dublin, west to Blessington, south to Glendalough or east to Roundwood. We take the final option, which takes us past the incredible Lough Tay, and you get a fantastic view from above the body of water. Again, worth a stop.
From here, the road opens up a bit and we press on. We get a junction wrong but it actually ends up preferential taking us to Glendalough, a bit of a tourist hotspot it transpires. At the time we don't quite realise why, but it later transpires it is one of Ireland's most important monastic sites, dating back to the sixth century.
But back on the road and now it's the turn of the R756, which takes you back up into the mountains, and it's here where we take 15 minutes for a picnic stop, looking down at the Glendasan river and all the way down the valley. It's a truly stunning sight.
We leave the Wicklow Mountains and the landscape flattens as we wiggle past the Liffey reservoir near Blessington and head into County Kildare. The sat nav wants to take us onto the motorway, but that won't be happening in a car like the Swift Sport. Instead we wiggle through the countryside and end up passing the famous Curragh Racecourse and the impressive architecture that is the main grandstand that dominates the skyline around here.
From here, we take quite a point-to-point route through the Irish countryside, taking us over the border to County Offaly to Tullamore, where we rejoin the busier roads and then a short stretch of the M6 motorway, before leaving this highway near Athlone and taking us to our final rest place, the incredible Glasson Lakehouse on Lough Ree.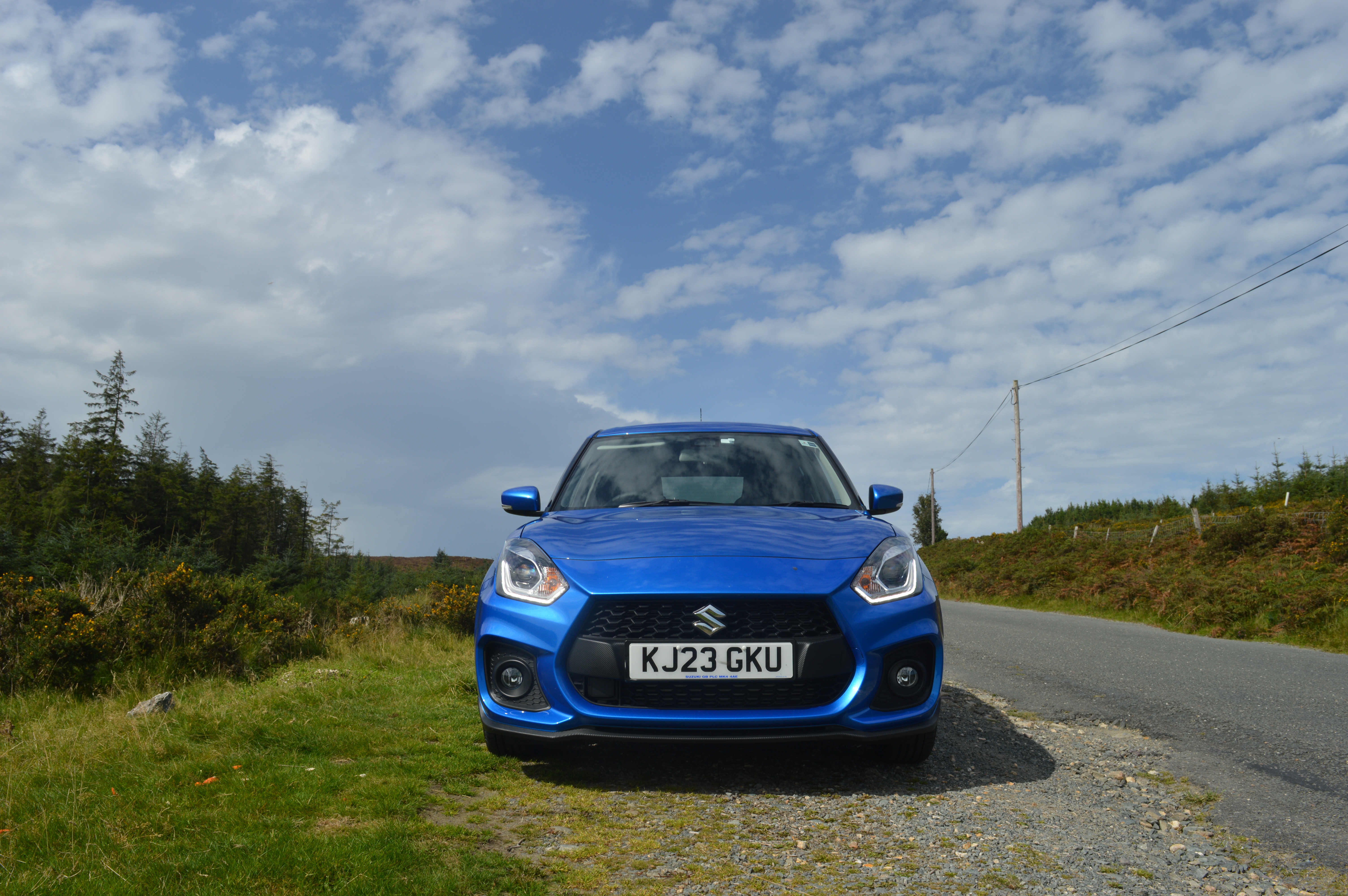 Popular for fishing and boating, it's a fitting end to the day, and we even get a chance to have a ride on a rigid inflatable boat (RIB) powered by one of Suzuki's onboard engines. Yes, Suzuki dabbles in the marine world as well as cars.
Reflecting on our trip, it's clear Ireland has so much to offer for car fans who want to head 'abroad' in search of clear, well-maintained roads and fantastic scenery. Put Ireland at the top of your road trip shortlist…