Tesla looks set to have a new rival in bringing zero-emission HGVs to European roads, with start-up firm Nikola Motor unveiling a hydrogen-powered truck designed for the continent.
Named Tre, the Norwegian word for 'Three', it's the American manufacturer's third fuel-cell HGV in development, having previously revealed two for its home market.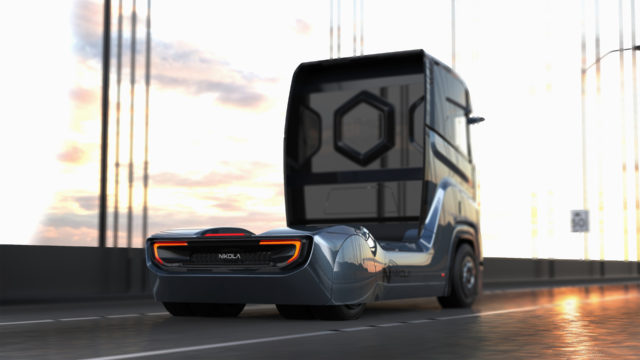 Tests are planned to take place in Norway 'around 2020', and Nikola Motor is also finding a location for a factory in Europe. Production is expected to begin in 2022-2023, in line with its American-market counterparts.
Although full details have yet to be disclosed, the HGV is set to be available in a number of configurations. Power from its hydrogen fuel-cell powertrain will range from 493bhp to 986bhp, while 6×4 and 6×2 drivetrain configurations will be on offer. Range is said to be anywhere from 311 to 746 miles depending on spec.
Trevor Milton, founder and chief executive of Nikola Motor, said: "This truck is a real stunner and long overdue for Europe." He added that it would be the first European zero-emission commercial truck with the necessary braking and steering systems plus 800Vdc batteries and 120kW hydrogen fuel cell needed for true level 5 autonomy.
There is no word on pricing yet, although reservations for the Nikola Tre can be made online. A concept version of the truck is to go on display at the firm's showcase event, Nikola World, taking place from April 16 to 17, 2019 in Phoenix, USA.
Last year, Tesla unveiled an all-electric HGV that boasts a claimed 500-mile range when fully loaded. Production is scheduled to begin in 2019, with reservation payments of £4,000 being accepted to secure a truck. These then have to be followed with an £11,000 wire transfer within 10 days.