Sports events including Premier League and EFL matches have been postponed until April, May's local elections have been cancelled and the United States has declared a national emergency.
Boris Johnson had faced criticism for not taking such actions, despite similar steps being taken by other European countries as the pandemic worsens.
Meanwhile health bosses at Walsall Manor Hospital have expressed their anger after people ripped hand sanitisers from the walls and visitors are to be banned from wards at Sandwell and City hospitals from midday Saturday.
Key updates:
The number of people who have tested positive for the virus in the UK has risen to 798 while the death toll is 10.

Walsall had its first two coronavirus cases confirmed on Friday.

Four new cases have been revealed in Wolverhampton, bringing the total in the city to nine.

Dudley had three new cases on Friday and Worcestershire had its first two cases.

Three further cases of coronavirus were confirmed in Birmingham on Friday bringing the total in the city to five.

The Premier League and EFL have collectively agreed to postpone matches until April 3.

Wolves' Europa League second-leg tie against Olympiacos at Molineux has been postponed after UEFA called off all games and Champions League next week.

Other major sporting events have been postponed including the London Marathon, two grand prixs, England's cricket tour to Sri Lanka, this year's Masters at Augusta and Six Nations games.

Local elections scheduled for this May, including the West Midlands mayoral poll, have been postponed for 12 months.

The United States has declared a national emergency and banned people from travelling into the US from 26 European countries.

The World Health Organisation said it was "deeply concerned" some countries were not handling the pandemic with "the level of political commitment needed to control it".
It came as a further nine people tested positive for coronavirus in the Black Country - including the first two in Walsall- and three more cases were confirmed in Birmingham.
Another four cases were confirmed in Wolverhampton on Friday, bringing the total in the city to nine, while three more were confirmed in Dudley, bringing the total in the borough to four.
One person died in Dudley on Wednesday and a Wolverhampton patient died on Monday.
The number of confirmed cases in Staffordshire remains at four, while two residents in Worcestershire have also tested positive having become infected while in Italy. A total of five people have been diagnosed in Birmingham.
As of Friday, 798 people have tested positive in the UK. This surged from 590 just 24 hours earlier.
People who have had close contact with the latest confirmed cases are being contacted by Public Health England.
More coronavirus coverage:
Wolverhampton director of public health, John Denley, said: "I would like to reassure people that we are working with health partners at a regional and national level to do everything we can to stop the virus spreading and ensure the people of Wolverhampton are protected."
His Dudley counterpart, Deborah Harkins, added: "I would like to reassure people that we are working with NHS colleagues to do everything we can to delay the spread of this virus.
"If you have a new cough or a high temperature you should stay at home and try and stay more than three steps away from others at home.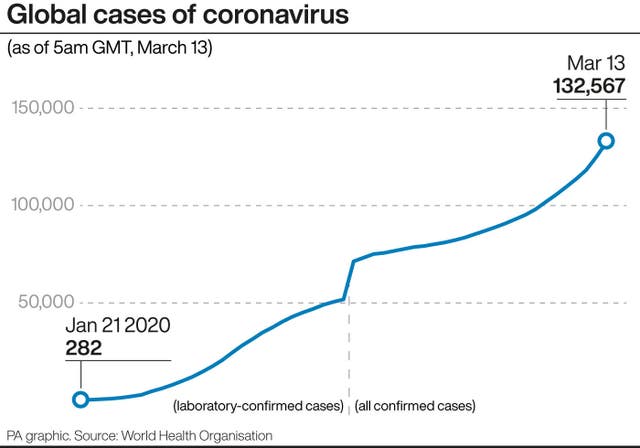 "If you are no better after 7 days phone the NHS 111 helpline for further advice straight away. It is really important that you don't go to your doctor or a hospital to be tested, to protect others."
Visitor ban at hospitals
Visitors will be banned from wards at Sandwell and City hospitals from midday on Saturday amid new coronavirus measures, with posters put up to to notify people.
From midday, face-to-face visiting will be banned on wards. Bosses say there will be a "very small number of exceptions" which will be advertised where they apply.
Officials said there will be additional telephone and video phone technology to help people speak with relatives on the wards.
And from Monday a significant number of outpatient appointments will take place by telephone or through other technology, or may need to be rearranged.
Paula Gardner, Chief Nurse, said: "To ensure we protect our inpatients and we respond safely to the COVID 19 Pandemic, we have decided to limit visits to patients on our wards.
"We will be providing alternatives for relatives to keep in contact with their loved ones and apologise for any inconvenience this causes."
Visiting is also being restricted at Russells Hall Hospital in Dudley.
Diane Wake, the chief executive of the Dudley Group NHS Foundation Trust that runs the hospital, said: "We are restricting visiting in areas where this is necessary to help prevent the spread of infection and visitors will be advised as appropriate."
Meanwhile Dudley Council is advertising for a contractor who can provide 6,000 bottles of hand sanitiser, 125,000 face masks, 550 latex gloves and an unspecified amount of body bags.
Anger over hand gel thefts
Hand sanitisers have been ripped from walls at Walsall Manor Hospital, prompting an angry response from health bosses.
Officials tweeted an image showing where one of the holders had been snatched from a wall and Walsall Healthcare NHS Trust chief executive Richard Beeken spoke of his disappointment at the thefts.
This is a polite request which, if this behaviour continues will become less polite. Please DO NOT steal hand sanitizer from our hospital or community premises @WalsallHcareNHS . This is needed for clinical purposes and protecting the most vulnerable from infection. Thank you

— Richard Beeken (@NHSBeeky) March 13, 2020
He wrote on Twitter: "This is a polite request which, if this behaviour continues will become less polite.
"Please do not steal hand sanitizer from our hospital or community premises.
"This is needed for clinical purposes and protecting the most vulnerable from infection."
Long queues at shops
Queues of shoppers have been filing through supermarkets as fears over panic buying continues with toilet rolls and canned food in high demand.
Many shelves have been left empty, with no pasta, rice, porridge or toilet roll left at Tesco in Burnt Tree, Dudley, on Friday afternoon.
Shopper Shaun Harrison said customers were having to wait 25 minutes to reach the till in Tesco Extra at West Bromwich's New Square shopping centre, while longer queues were reported across the region.
The 52-year-old said: "You could get round the store OK, but people were filling up their trolleys to the top.
"I saw one woman jogging and grabbing five tins of beans and six pops. It was pandemonium.
"I'm not sure what the panic is. It's panic stations at the minute but I'm sure it'll blow over.
"I feel sorry for people, for the elderly, there will be nothing left on the shelves for them.
"I was going to stand in the queue but it was all the way around the store.
"Coronavirus has given everyone the willies and it's balmy."
Meanwhile a discount store in West Bromwich was advertising 500ml bottles of hand sanitiser for £14.99 and photos from Asda in Tipton showed crowds gathering around a new delivery of toilet roll.
Tourism hit as events cancelled
The popular Irish celebration was due to take place on Sunday in the city centre but organisers have announced it will not go ahead, with plans to hold it at a later date instead.
Festival chairman Peter Connolly said: "We are devastated to share this news with you, however, we are committed to providing our city with a belated St Patrick's celebration that we can all be proud of later in the year.
"We are now working through the ramifications of this unprecedented situation and look forward to coming back with announcements very soon."
Tourism boss Jan Denning, who is director of Destination Wolverhampton and the Black Country, said events across the region were starting to be cancelled at an alarming rate.
She said: "It had been business as usual really, but that's starting to change now.
"Event organisers are starting to cancel or postpone events, which is having a massive impact.
"It's kind of no-man's land at the moment.
"People are very concerned about cancelling. Will they lose money? Will they get money back? Will there be cancellation charges?
"We can influence some positivity with venues and attractions being flexible with cancellation charges. Obviously venues need to be mindful they are a business too and need to measure that impact."
She added: "I was sad to learn the British Tourism Show at the NEC has been postponed to June.
"It's just going to delay any results and impact we are making. But what comes first is keeping people safe."
Attractions Dudley Zoo, the Black Country Living Museum, and Drayton Manor have all announced they are staying open – but have boosted cleaning practices and warned visitors not to come along if they are showing any symptoms.
Local elections postponed
Downing Street has confirmed that May's local elections, including the West Midlands mayoral poll, will be postponed until next year.
There had been speculation ahead of this afternoon's announcement after the Electoral Commission called for the votes to be delayed.
But Councillor Mike Bird, leader of Walsall Council, said he believed they should be held in May.
"A lot of effort goes into elections - we've got the mayor election, the Police and Crime Commissioner election and the local elections," he said.
"I think, for democracy to be interrupted, that's a matter for someone else to decide on.
"But I don't support it."